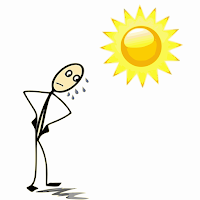 Losing your cool on the golf course - most amateurs can't help but get frustrated at errant shots or lost balls but they can stop themselves from getting overheated in the summer sun.
"Hot town, summer in the city" was the first line of the great Lovin' Spoonful song and the lyrics apply to golf too as the sun and high temperatures can be brutal of golfers. Four hours without protection or hydration can make for a very uncomfortable round and might have you carted away in an ambulance for heat exhaustion. And, don't forget that prolonged exposure could lead to melanoma.
Being a golfer who plays the game in a warm, southern clime, namely Myrtle Beach, I have adapted to the summer sun and will share a few tips on staying cool in this blog. Keep this list handy this summer and you may get through the round unscathed.
1. The Most Important Reminder - WEAR SUNSCREEN...on your exposed body, face, and lips. The American Dermatology Association recommends that you get a broad spectrum which covers both UVA and UVB rays. Also, don't get sunscreen lower than an SPF 30.
2. Cover Your Head and/or Face: wear a hat or visor. For people who are losing their hair, a hat would be better if you are not wearing any sunscreen protection. A hat/visor shades your face from the sun and helps block eyes from glare.
3. Protect Your Eyes: Don't forget the UV Sunglasses.
4. Stay Hydrated: freeze water bottles the night before - they stay ice cold for about 3.5 hours.
5. Bring a battery operated fan to help keep cool.
6. Bring extra gloves and change them out when your gloves get damp - this tip will help you maintain a good grip so you'll hit better shots.
And, no matter how hot it gets, have fun and don't lose your cool!
What tips do you have to stay cool on the golf course? List in the comments section of this golf blog and tag us on Twitter @Golf4Beginners.