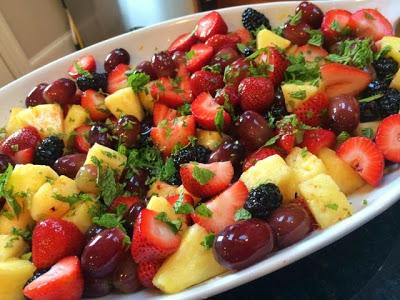 What is the perfect addition to any brunch, cookout, picnic or breakfast? Fruit Salad!!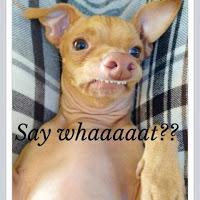 Yup. Fruit Salad.Fruit ( especially in summer) is naturally sweet so does it REALLY NEED SYRUP? No. Is it totally delicious with it? YES. Thank you Pinoeer Woman!
You can really use any fruit you like for this salad. I personally love pineapple, grapes, and berries. If you don't feel like chopping you can even buy a premade fruit salad ( I recently saw one at Whole Foods for $20.) Holy crap! I will spend 10 minutes cutting fruit. The syrup is so easy to make. I had some left over after making the recipe. Feel free to use it over french toast, in drinks or add to some home made lemonade! And don't skip the mint! It is so delicious and refreshing in this recipe. Summer is here people. Enjoy this salad!
Ingredients
Orange-Vanilla Syrup:
1 cup sugar
Zest and juice of 1 orange
1 vanilla bean ( or 1 tsp vanilla extract)
Fruit:
4 pints strawberries, hulled and halved
2 pints blueberries
2 cups green grapes, halved
2 cups red grapes, halved
Fresh mint leaves
Directions:
Place the sugar, 1 cup water, orange zest, juice and vanilla bean in a small pan and stir to dissolve the sugar. Then bring to a boil. Turn the heat to low and simmer for about 15 minutes to thicken. Set aside to cool.
Prepare all the fruit in a large bowl, pour the cooled syrup over the top and toss together. Decorate with mint leaves and chill until ready to serve.