Warmer weather is finally here... which means more entertaining. Things are looking brighter and promising as more and more people are getting vaccinated. With mask mandate being eased we are looking to travel more and host more this summer.
While summer entertaining is fun, it comes with a certain level of pressure. At least for me who is really particular about the minutest of detail. I always go that extra mile to ensure my parties are seamless and memorable. I like to lay out a plan ahead of the party, depute tasks and then execute.
Not only do I emphasize on a flawless party, I pay extra heed to the food that I serve. Planning a menu becomes a lot easier if there is a theme. But, theme or no theme, one thing that I always like to include in the menu is a Cheeseboard. It is a party favorite and caters to both kids and adult palettes.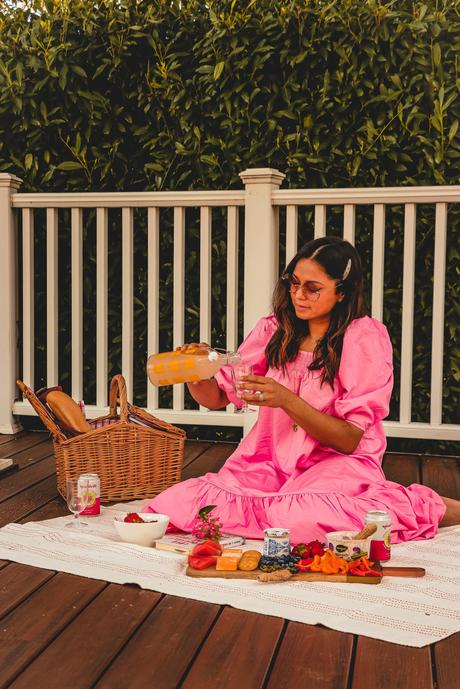 A cheeseboard with meats is called a charcuterie. Pronounced as sha(r)KU-tairee, this tray is the perfect medley of sweet and savory. One can never go wrong with a Charcuterie tray. Kids or adults, this seems to be popular with every age group. Most of my cheeseboards are meatless, as we don't eat the meats that comprise a cheeseboard.
People go cray-cray and sometimes overboard with their charcuterie. I like to stick with the traditional- clean, colorful and cheese-y. There are five major components of a charcuterie board, namely cheese, crackers, nuts, salami and dips. There is nothing fancy involved, just an eye-appealing appetizing presentation of the aforementioned ingredients and you are sure to rack up compliments.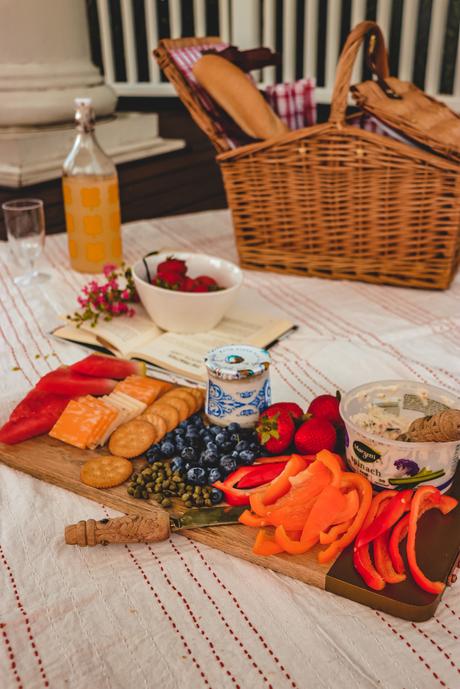 If you don't know where to begin, I've categorized the different elements into groups for a better understanding - see below.
- it's the base of your cheeseboard. It could be a platter, a board or a tray. I just bought one and it's such a statement.
cheese- A cheeseboard usually has three different kinds os cheeses- soft, aged and hard. Soft cheese like goat is the ideal. Aged cheeses like gouda and hard cheeses like cheddar, colby, all go so well. Honestly, there is no limit to the kind of cheese you can use, just include any cheese you have on hand. Dips are a great alternative to cheeses.
crunch - salted crackers, french toast crisps, mini bagels, and nuts are some of the crunchy snacks you can include in your board.
fruit - apples, grapes, cherries are some of the fruits that I like to personally serve on my cheeseboard.
veggies - think crunch, all crispy veggies go well. Options like celery, cucumbers, carrots, and colorful peppers always come in handy.
tart - I mostly like to include something tart like green/black olives, capers and mini pickles.
sweet - items like prune, apricots, almonds, figs, chocolate bars are some of the sweeter items I personally enjoy on my cheeseboard.
meat - cured meats prosciutto, salami, lox, always take your cheeseboard to the next level.
cheese knives
These are just some of the things I like to include in my charcuterie, is there anything specific you like?
Congratulations to Shelbee of Shelbee On The Edge, she is the featured blogger of the week.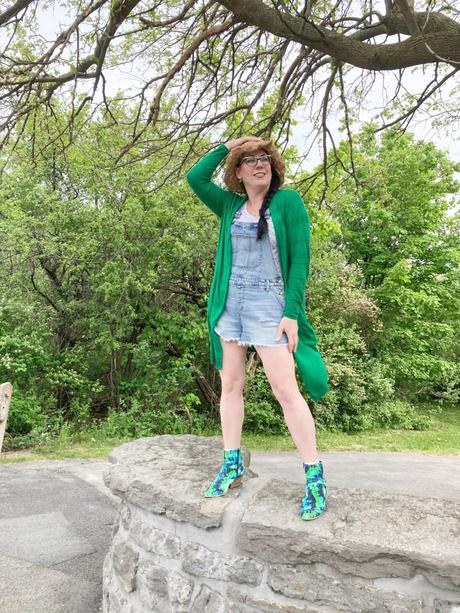 Now it is your turn to share your favorite looks.