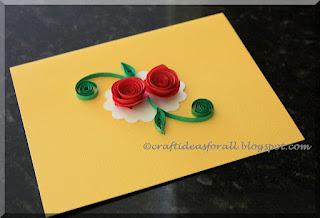 This is in continuation with my previous post. This project I am sharing was made by my eight year old student. Spiral roses are so elegant and enhance the beauty of any project they are used in. I have used them often for cards, tags as gift toppers etc.  Just change the size of the spiral used to make the rose and you can use it in multiple ways.
Usually when I make these I draw the spiral free hand and cut it. For Sirjan, my student I used a slightly different approach. I drew spirals of various diameters on a tracing paper. And then taught her how to use carbon paper or transfer paper to trace the template on the colored paper for the rose.  That made it easy for her to cut the spiral.I prefer to use text weight paper for the roses though you can use card stock too.
We made many variations of the roses, like inking the edges with markers to make shaded roses or using stamp pads for the edges.
There are quilling kits available with cut spirals though I prefer to cut my own. Here is  a 
tutorial
  for making the rose after the spiral is cut.  Here is a close up of the roses she made. I am so proud of her.