Named for the Patti Smith song, Portland's Summer Cannibals are ready to swallow us whole on their dazzling debut, No Makeup. A fittingly bare, back-to-basics style record, the polished quartet present ten turbulent tracks in effortless style, winking towards the future while nodding clearly towards the past. Gritty and loud but definitely fun through-and-through, No Makeup marks not just an impressive debut, but another notch on 2013's already impressive belt; this is one we'll still be talking about for months to come.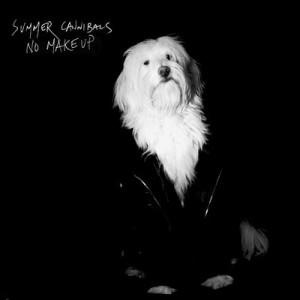 Summer Cannibals singer/guitarist Jessica Boudreaux and guitarist Marc Swart, who founded the band as a duo, decided to embrace a heavier sound after catching San Fran whiz kid Ty Segall for the very first time last summer. With bassist Lynnae Gryffin and drummer Valerie Brogden now on board, that decision has become a dream fully realized. Rich, sultry, and slightly foreboding, Jessica Boudreaux recalls shades of Karen O when she sings, enveloping her listener in a thoroughly smoky vocal style. "Since when are you virginal? Since when are you pure?" she hisses on "Wives," a hypnotic later track that enchants with a classic bad-to-the-bone riff. Elsewhere, weighty garage-rock rhythms, sharp guitars, and persistent drums abound; still, Summer Cannibals aren't afraid to showcase more pleasant pop melodies. Overall, think west coast power-pop meets pacific northwest grunge, or what might happen if Wavves got together with Savages to host a semi-sophisticated dinner party.
In between the many sunny "whoa-ohs" of album opener "Sounds," Boudreaux displays her very best woman-scorned persona, singing, "I'm dreaming of this city on mute, where I can't hear your band and I don't pretend to care." Title track "No Makeup" is utterly bewitching, while "Hey/I Was Saved" evokes sweet Pixies memories over a steady, sleepy beat. Later, there's "Take Me Out," where it's Scottish post-punkers, be damned! Summer Cannibals "Take Me Out" is (almost) just as catchy, with a deliciously scratchy, rough-and-tumble twist.
By the time No Makeup drifts away into the slow, delicate haze of "The End," you'll be wishing the beginning was happening all over again. No worries, though; this is just the start for Summer Cannibals, a band who are all dressed down with nowhere but up to go.

3.5 / 5 bars