"Hello Readers, Every knows that summer is at our door so I thought it would be nice to share makeover of our little princess bedroom in summer, Hope you all enjoy the post"
Summer is a great time to give a girl's bedroom a makeover. She will be out of school and therefore will have the time and energy to be an active participant in the project. Upgrading her bedroom over the summer may also make her feel more mature when she goes back to school in the fall. A bedroom overhaul is an appropriate reward for major milestones like graduating from elementary or middle school. The new decor will make her feel as if she is truly entering a new grown-up phase in her life.
Colour Scheme:
If the bedroom is already predominantly pink, as so many girls' rooms are, the girl may want to consider living with another color for a while. Emerald green is an unconventional yet deeply feminine colour, as are ruby red and navy blue. However, the bedroom's furnishings should not all be the same shade of the color that is chosen. Different complementary shades bounce off each other and give the impression of style without demanding a great deal of effort from the decorator. For example, light yellow tones accent green and blue very well. Small amounts of pink look chic against red, despite the old rule against pairing pink and red together. Placing them next to each other is a bold and modern choice befitting a young girl.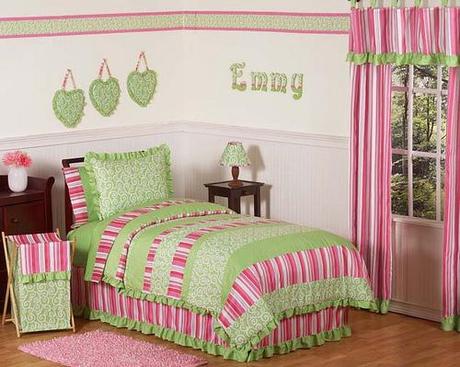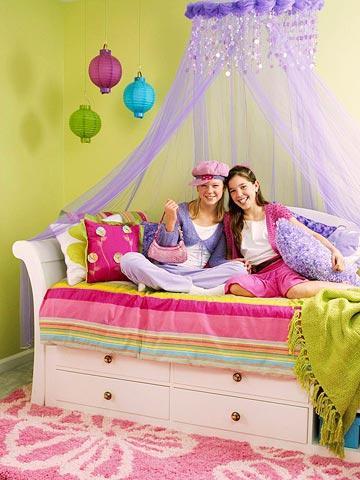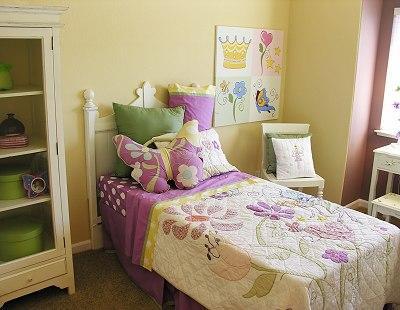 The carpet or rug should be in the darkest tone of the chosen color. The bed's comforter can be in a slightly lighter shade or have a pattern on it that incorporates that color somehow. Common choices are plaids and florals. The accent shade will be used for the curtains and for other small accessory items. The walls can be painted in alternating light shades of the dominant color. A dark shade can be used on the framing around the door and windows. Dark paint should be used sparingly. It becomes overwhelming very quickly.
Furnishings:
It may be tempting to paint wooden furniture to suit the color scheme of choice, but this would be a mistake. If the furniture may be painted, perhaps to cover old pink accents, the decorator should opt for a plain color like black or white. The bed and dresser should not blend into the rest of the room. These pieces will serve to contrast the rest of the contemporary design scheme with classic sturdiness. If a new bed is being purchased, it should be in an androgynous style that is not too ornate. Overly girly furnishings are immature and contradict the intention of this project. A daybed that rests in a corner changes the proportions of the room and frees up more floor space. This new space can be filled with a small couch or loveseat. A desk is another option, particularly if the room's redecoration is a reward for an academic achievement. An old-fashioned desk with a rolling top would help steer the bedroom's aesthetic direction. An electric piano or small entertainment centers are other possibilities. Some may actually choose to leave the space clean and empty.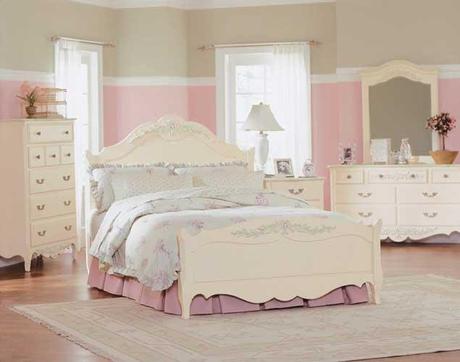 The furniture should match as closely as can be managed. New high-quality furniture can be very expensive so it is not necessary to make sure that everything is exactly the same color. Dark woods always look good next to each other, as do items that have been painted the same color. One thing that should be avoided if possible is placing gold- and silver-toned metal pieces in the same room.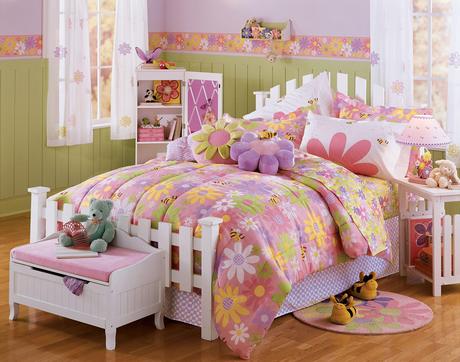 Other Concerns:
The girl's interests will dictate the direction of her room's upgrade. In lieu of wall decorations, a girl who is invested in fashion may decide to bring her dresses out of the closet and display them on a garment rack against one wall. Alternately, a large bookshelf or storage unit for a music collection can be placed in that space. If the girl has decided against having a desk in her room she should choose some other small table to hold small miscellaneous items. A miniature dresser provides storage for small clothing items like socks and doubles as a nightstand. 
Other seemingly insignificant items can make a major decorative impact.
A fancy bedside lamp with a floral or portrait design can be the lone overly feminine piece in the room. Everyone sees the bed first upon entering a bedroom, and a nearby lamp will influence the way everything else in the room is seen. The room will be identifiable as a girl's room while still being cool enough for a preteen or teenager.
A black, white or natural wicker clothes hamper can be unobtrusively placed in a corner.
A shoe rack that hangs on the back of the door is another storage option that doubles as a decorating decision for a fashion-conscious girl.
Parents should allow their daughters to have the final word.