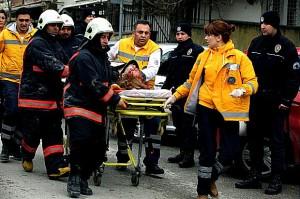 A suicide bomber detonated himself inside US embassy in Ankara killing two people and injuring many others on Friday afternoon. Turkish security officials have confirmed the deaths. US embassy guard is among dead.
"There were two dead in the suicide bombing, a Turkish security guard and the bomber himself," Ankara governor Alaattin Yuksel said. Nearby buildings were also damaged as result of explosion.
According to available details suicide bomber was able to breach the 1st security cordon and managed to sneak into the embassy compound. Bomber detonated himself at a checkpoint on the perimeter of embassy.
Initial investigations have suggested that the suicide bomber belonged to banned militant outfit.
"There are initial findings that the suicide bomber was a militant of a banned leftist Organisation. His fingerprints are being examined right now." Security official Muammer Guler told media.
US Ambassador to Turkey Francis Ricciardone has vowed that U.S would continue to work with Turkey to fight terrorism.