Recipe Number One Hundred & Fifty Three:  Page 223.
I haven't eaten a pretzel for years and I've certainly never eaten a sweet one before. I was curious as to how these would taste. There is no photograph to accompany this recipe but thankfully there is a helpful illustration. I found this useful as I couldn't remember the exact shape of a pretzel; it was good to have a reminder! It didn't appear to be difficult but I suspected that it might be a fiddly job.
Isaac, my little boy, is very much into play dough at the moment. We have a multicoloured carpet due to all the trodden in pieces! One of the many advantages of having children is the excuse to play with their toys; play dough is no exception! I enjoy creating shapes, animals and even flowers with the squidgy stuff! As I was feeling a little apprehensive about shaping the pretzels, I thought I'd have a practice run with the play dough. It may sound like an odd idea but I'm glad I did! I roughly worked out how long the dough would need to be to twist into the traditional shape. Hopefully finding this out beforehand would stop me over working the pretzel dough. After a few goes I felt I had perfected the shape as much as I could, having also had lots of fun in the process!
For a change, I already had everything required in stock. It was nice to make something which required so few ingredients. The recipe was very straightforward and easy to follow. I simply weighed some plain flour into a bowl and then rubbed in a modest quantity of butter. It was such a chilly day that it took an age for me to work the butter into the flour. My hands were like ice, which didn't help matters! Finally I achieved a breadcrumb texture and I could move onto stirring in a little sugar. The only liquid in this recipe was a beaten egg and a few drops of vanilla essence. I brought the mixture together and kneaded it gently until smooth. It was a little sticky to start with but, with the help of a little flour on the worktop, the dough was soon smooth and manageable. At this point I noticed that Mary refers to the dough as pastry. As the recipe was in the biscuit section of the book I felt a little confused. I'd never considered a pretzel to be in any way related to pastry! The dough, pastry or whatever you wish to call it, needed to chill in the fridge for half an hour. While it had a rest I quickly made sandwiches and Neil came and joined me for his lunch break. I'm not sure that Neil much enjoyed his break as I used the opportunity to talk nonstop about cakes. I think he was relieved when his half hour was up!
Once Neil was safely back at his desk it was time for me to extract the chilled dough from the fridge. Mary says that 18 walnut sized pieces can be made from the lump of dough. After a lot of adjustments I finally ended up with 18 small balls. Throughout the practice session with the play dough I'd found it difficult to roll a long sausage shape between my hands. Either the ends would break off or the shape was uneven. I found it much easier and also more successful to roll it directly on the worktop using both my hands. Unfortunately, when I attempted this method with my pretzel dough, I made the mistake of generously dusting the worktop with flour. This made the dough flatten as I rolled instead of staying in a sausage shape. I had to stop what I was doing and wipe the worktop clean. I lightly dusted my hands in flour instead of the worktop and this did the trick – hooray! As I worked, I couldn't help but compare the long thin sausage shape to a worm. This made me feel a little queasy! I followed the diagram in the Baking Bible and shaped the dough to the form of a pretzel. Mary describes it well when she remarks that it resembles a loose knot. I really felt quite pleased with the result; I was having so much fun too!
I put one batch into the warm oven whilst I made up the next set. After only eight minutes I took the sizzling hot pretzels from the oven. Whilst cooking they had lost their neat shape; I felt quite disappointed. Within seconds the sizzling had stopped and they easily came away from the tray. To avoid a soggy bottom, they went straight onto a wire rack. I quickly grabbed the bag of icing sugar and a sieve and smothered them with a heavy dusting. A thick layer of icing sugar also landed on the worktop – great! With my next batch of pretzels I attempted to make the shape more definite to allow for the spreading in the oven. I thankfully had more luck with these. However, I couldn't help but feel a little alarmed by how pale they were even though Mary says they shouldn't change color in the oven. Surely they shouldn't look so anaemic. I'd always thought a pretzel should be dark brown!!
I didn't really know what to expect when I tried a pretzel. Although I'd thoroughly enjoyed making them, would they taste good? I have to say that they definitely tasted more like a pastry than a biscuit. The texture was surprisingly soft – it reminded me a little of a Palmier. The flavor was pleasant but not particularly exciting; it could have done with some more vanilla essence as the taste was a little bland. The icing sugar might have made a complete mess of the kitchen but it gave a welcome sweetness to the pretzels. I was surprised to find myself eating one after the other. As soon as a pretzel had entered my mouth my hand was already holding the next one!! I had planned to deliver some to a neighbor but they never made it! I can honestly say that these are addictive, but I'm not sure why!
Without a doubt I will make these again and add in a few extra drops of vanilla essence. I think it could make all the difference. Next time I'll have to enlist the help of Isaac. He'll love it as he will think we are playing with play dough. However, making pretzels is even more fun as we can eat them too!!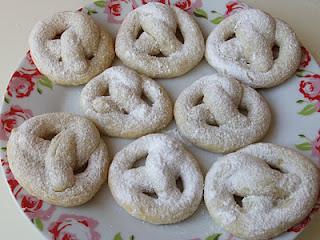 Pale and not very interesting! ;-)