It's the mid 1960s, a smart young Australian man, already making a success of himself in business, has just bought his first status symbol, a brand new AP6 Valiant Regal , the top of the line model back then. On his arm is his gorgeous girlfriend, while out on the street the other boys are either watching jealously, or pretending not to notice.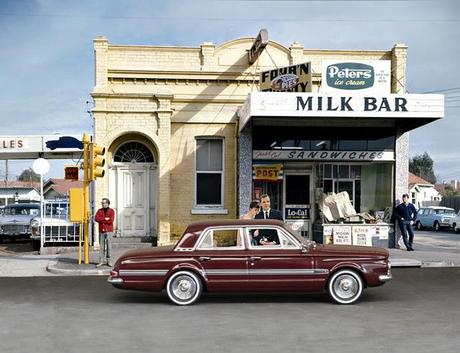 As soon as I saw this photo of a 1960s milk bar in Australia I knew it was almost perfect for
my Valiant Regal diorama. If you want to be picky, you can see that the news posters are
of the moon mission of 1969, not 1965, but fortunately I'm not that picky. The model used
here is a 1:43 Trax model of the AP6, and it's very nicely made indeed.

I have a soft spot for Valiants, not because I've ever owned one, but because there's a nickname for these cars which involves the suburb where I live in Sydney. Valiants in Sydney have earned the extra name of 'Marrickville Mercedes', because these were the status symbol cars bought and driven by migrants who had made a success of themselves in their new home, Australia. Marrickville is the migrant suburb par excellence in Sydney. Even though it is slowly gentrifying now, alas, it's still home to lots and lots of Greeks, Italians, Portuguese, Vietnamese, Chinese, Africans, Turks, Lebanese, Indians and Sri Lankans, Indonesians and many many other cultures. Everyone seems to get along with each other pretty peacefully and happily too.
There are still plenty of Marrickville Mercs getting around, being driven very slowly by Old Greek men. Their grandsons are waiting patiently for Pop to drop off the peg, so they can get their hands on that mint condition Valiant. Can't blame them really.
So a diecast collection for this Marrickville boy just wouldn't be complete without a couple of Marrickville Mercs in the garage.