Last week we were asked by a client to produce an exterior computer visualization that would help them go through the steps of obtaining the city building permits. This particular project was required to be done in a big rush. There was only 2 days to create the 3d model of the property and afterwards add all the material finishes and colours to make this architecture rendering Silicon Valley look photorealistic and vivid. The main focus for this visualization was its building, and more important its colors.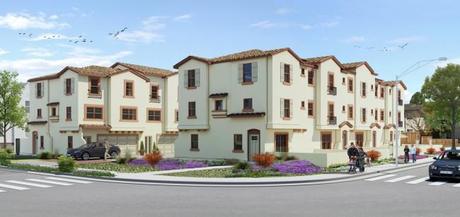 Here is the first render view delivered to client. They were amazed with the realism of the visualization, but they needed some color adjustments.
The customer provided with the CAD plans and all the additional information to produce the view. Besides this, the developer sent 4 core color-tone specifications for the property. The colors were communicated with the known CYMK standard. This type of color-input is very difficult to manage when companies are new in the 3d architectural renderings field. The difficulty arises because computer displays and 3d rendering software work in another format which is called RGB. So, when the final rendering is delivered to the builder, they see a complete different set of tones in their monitor, and when they printed out they also see something different. So, the trick here is to know about this, and act fast to change the tones and comply with the developers need.
This is the new artistic rendering version with the color adjustments. The customer was impressed with it and told us it was a success after printing.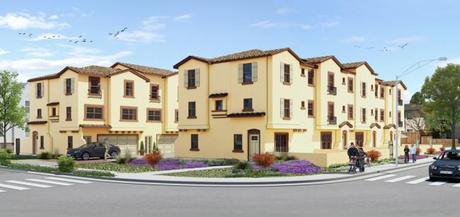 In our case we had a lot of previous experience on jobs were we were given this type of color information, and we already knew how to work in a rush in the situation were some tones need to be quickly adjusted. Our client in the much known area of the Silicon Valley was able to get 2 color versions of the architecture rendering computer illustration, and one of them matched perfectly well their needs, and they told us that their meeting was very successful. They mentioned several times that they were amazed with the customer service we provided for their emergency render needs. This is the way we work to create the long term relationships we have with our clients. At GoldmanRenderings.com we treat every new architectural visualization project and needs as if they were ours.