Chances are if you are a woman, you have some sort of shape wear. Whether it's undies, tights or full coverage, most of us have worn them at least once. 
Some are more comfy than others, some literally left me without being able to breathe. A few months ago, Lisette L got in touch and offered to have me try their new shape wear. I thought, "here we go again". BUT, it turned out they are a different kind of shape wear - it's actually REAL clothing and stylish at that. 
No tight undies or cutting off your circulation. Lisette L has a range of everyday trousers and pants that hug you in just the right places, no buttons or zippers and make you look slimmer
I opted for the polka dot skirt because it's not everyday you find a pencil skirt that helps keep your "wobbly bits" from popping out and it smooths out the lumps and bumps.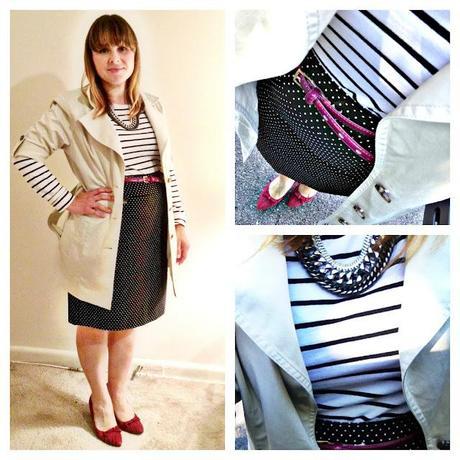 Polka dots and stripes
I was a bit nervous because I didn't know how it would look with my growing bump, but I ended up putting this dots and stripes ensemble together. Truth be told, I've been super tired and run down over the past few weeks and just the thought of thinking of what would go well with the skirt seemed like a massive chore. But I'm happy that I did! 
Lisette L Polka Dot Skirt Red pumps from TJ Maxx Striped long sleeve t-shirt from Primark Purple belt from Target Trench from CAbi  Stella & Dot Femme Fatale Necklace from Kristin Biggs
Lisette L describe their shape wear as:
"The close to the body effect of our fabric and our special pull-on Flatterie Fit. With no zipper or button to bother with, Lisette L flattens and flatters, slims the abs, contours the hops and shapes the behind. The look is flat out fabulous!"
Now I would have loved to have better pictures, but my photographer husband has been away and my little guy still isn't up for the big job. My mom came by last week and I asked her to take a picture before she left.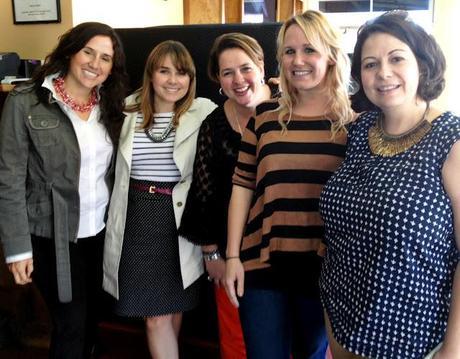 Pivot Point style business meeting (L-R) Casey Kincheloe, me, Stella & Dot stylist Kristin Biggs, Mix 107.3 radio host Brooke Ryan and Vanessa French
I did wear it to a business meeting in DC and despite being 17 weeks pregnant it still fit comfortably over the bump and I was pleasantly surprised at how the fabric moves with you. 
After the baby is born, I am already planning on investing in a pair while I get back to into shape - I have a pretty good feeling that these pants will give me a much needed self esteem boost.  
Right now if you register with them on their site are you automatically entered to win a pair for yourself. You can also find them on Twitter @LisetteLPant and Facebook 
Sadly their entire range is not featured on the website, but you can request a look book/catalogue.
Lisette L are sold in boutiques around the country. Find a store near you here.
For a second opinion, check out Wardrobe Oxygen's thoughts on her polka dot ankle pants!