Back in January I went way overboard with the shopping. WAY. Everything was affordable, but I just bought SO MUCH.  The last few years, the styles out there really weren't "me."  The fashion industry now has it out for me & my bank account.  EVERYTHING I love is out & crammed into one season. Really? You couldn't spread it out?!

  Polka dots, mint, coral, peach, lavender, navy, nautical, satement necklaces, lots of bling, fabulous handbags & shoes are EVERYWHERE. It would be a dream come true if I was a bajillionaire, but my husband almost sent me to Shopaholics Anonymous because I couldn't stop. I finally did tho & I'm trying to be really good & not really shop the rest of the year. Wish me luck!  Lord knows I'm going to need it!

Since I have bought so many new things, I'm making sure I wear EVERYTHING I bought. Luckily I live in Florida & I can wear just about everything I purchased all year.  Here are some of my outfits from this week.  Please excuse the image quality! I'm borrowing my mom's expensive camera to try & take better pics for future posts.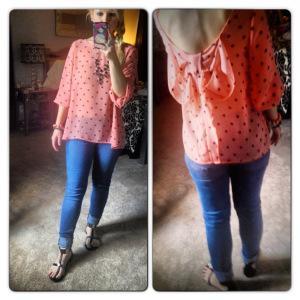 Nothing cost over $40. Top:Southern Belle Boutique Jeggings:Levi's Shoes:Prabal Gurung for Target Sandals $14.98 Necklace:
groopdealz.com
Bracelets:
groopdealz.com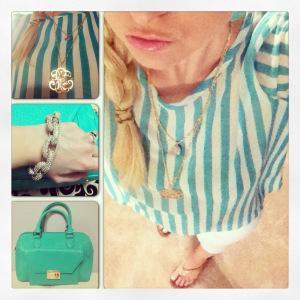 Again, nothing cost over $40. Apparently I make a duck face when I'm concentrating…aiyiyai! Top:Giddy Up Glamour $29.95 Capris:
Venus
$29 Shoes:Pamala's Boutique (Gold) $19 Necklace:
Charming Charlie $13
Bracelet:Modern Ego (Gold) $24 Purse:
JustFab-Heritage
$19.99 (Introductory discount)

Action shot from my Dad's side
Easter
get-together on Saturday. Shew my hair is a hot mess! Dress: Magenta Chevron/Sequin Maxi Dress $39.99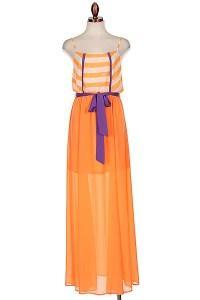 I didn't get a pic of me in it, but this is what I wore Easter Sunday. It is super vibrant in person! Purple & Orange Maxi Dress $42.99
Do you blog & love to show off your outfits? Link up with Lauren at StyleElixir by clicking the button below!