For my third style crush in my Pretty Little Liars series, I bring you the style of Aria Montgomery. I adore the character Aria, played by the gorgeous Lucy Hale. The fact that she has great dress sense and gets to lip wrestle with Ian Harding - Ezra/Mr Fitz Yum!
To see my previous posts on the other girls you can click the following links; Hanna Marin and Emily Fields. My final post will be Spencer. Describing the girls, they all have their own style. Hanna being the glamorous high heeled one, Emily the cute sporty one, Aria being quirky, rocky and slightly edgy and Spencer is the prepy chic one, which you'll see next week. 
I love Aria's style, however this picture doesn't show her style off at it's best. It's a cute look but she usually sports really cute dresses and heels. However, this is the picture, the same in every week, and this is where I got my inspiration from...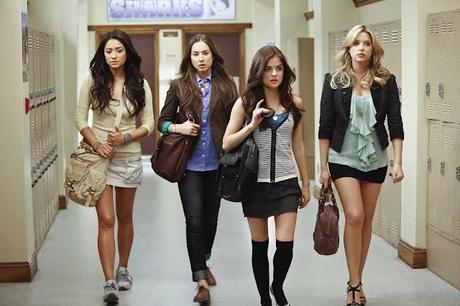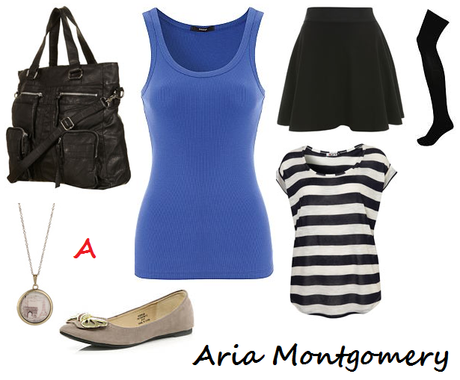 Blue vest top - George £3.00
Bag - Topshop £38.00
Neckalce  - Forever 21 £3.15
Stripy

 top - Topshop £18.00
Skirt - Miss Selfridge £14.00
Socks - River Island £8.00
Pumps - River Island £25.00
I feel like a bit of a failure this week as I don't think it's a very good style match at all. I spent about 3 hours trawling the internet trying to find the closest match that I could find. I'm really happy with the bag but that's about it. Although, I want to buy the skirt and stripy top just for me cos I really like them, so I guess it's not all bad.
Anyway, let me know what you think. Next week I'll be doing the style of Spencer Hastings and after that I'll be doing each of the girls styles in their everyday lives. 
Who watches pretty little liars?!? I love it! Can't get enough of it.
Hope you have a good evening and don't forget, I'm everywhere, so watch your step...

HAHAHA just kidding :) lots of love,