We all know that diet is key to many beauty areas. Of course eating whole foods is the best way to get that nutrition but sometimes a supplement will help you get the nutrients faster and in a larger quantity. I've never had issues with my hair until two things happened, age and mostly my Rheumatoid Arthritis. The number one side affect of one of the meds I take for my RA is hair loss. When I read that side effect, (before I started taking the meds) I was worried. My hair is on the thin and straight side but in general, I've always loved my hair. The thought of losing my hair was daunting. At the recommendation of other RA folks, I started taking Folic Acid right away. It has definitely helped minimize the hair loss but I haven't noticed improvements in new growth. About six months ago I began reading about the benefits of Biotin for growing and strengthening your hair. When Zenwise Labs asked if I'd like to try their Hair Growth Vitamins + DHT Blocker, I said yes (after making sure there were no interactions with my meds).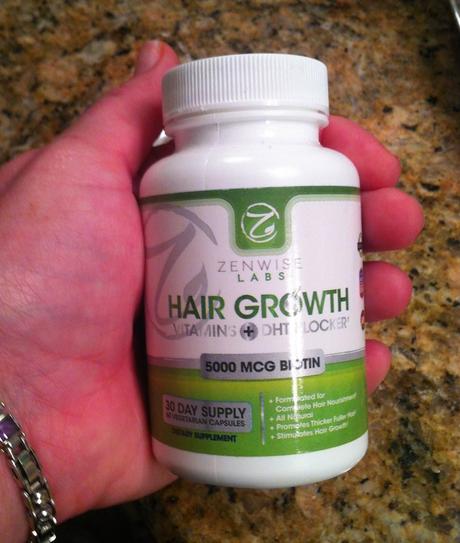 Of course I also checked with my doctor to make sure that she approved. She did and I have been using the Vitamins for about a month. You should always make sure to check with your physician before starting any kind of medication, even if it's over the county. A little info from their website:
Zenwise Labs Hair Growth Vitamins formula contains our distinct blend of 27 ingredients, including 5000 mcg of Biotin, that promote hair growth and overall hair health. This formula also provides essential vitamins and antioxidants to address deficiencies that have been shown to cause hair loss.
Our all Natural formula can be used to:
Promote Thicker Fuller Hair
Stimulate Hair Growth
Address Vitamin Deficiencies Associated with Hair Loss
Key Ingredients:
Biotin
MSM (Methyl Sulfonyl Methane)
Grapeseed Extract
Saw Palmetto
Pumpkin (Seed-Curcubita Pepo)(4:1)
Gotu Kola (Herb-Centella Asiatica) (4:1)
Ginkgo Biloba (Leaf)
L-Lysine Hcl
L-Proline
Kelp
Citrus Bioflavanoids
Nettle (Leaf-Urtica Dioica)
Catalase
Resveratrol
I have noticed new hair growth since I started using the product and my hair feels fuller. It's also important to note that I haven't changed my hair products since I began using the vitamins. I use the same combo that I've been using for several months. I wanted to ensure that any hair changes could be attributed to the vitamins and not external products.
I have noticed some positive changes in my hair growth since I began taking the vitamins. I'm happy with the results so far and I've seen improvements over the Folic Acid alone. Fuller hair is a good thing!
NOTE: I was provided the vitamins in exchange for writing about my experience. The opinions expressed in this post are my own.