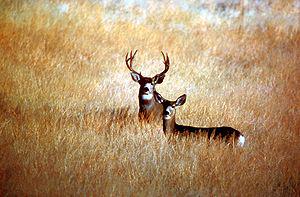 Image via Wikipedia
Yesterday Stewart, my smallest dog, got all excited and rushed to the door barking.
There were three deer out in our field. His keen senses and theirs were on display. Danger, alertness, choices and then decisions to be made, so the deer bounded off, Stewart settled down and I got back to work.
It was wonderful to see the deer, great that Stewart who weighs in around 8 pounds believes he's my protector and fun to have animals all around me.
What do animals think? We will never know however it's obvious that they use their minds and instincts.
 Eric B. Gutkind once said, "People are afraid to think, or they don't know how. They fail to realize that, while emotions can't be suppressed, the mind can be strengthened. All over the world people are seeking peace of mind, but there can be no peace of mind without strength of mind."
The deer use their mind and senses to live, Stewart also – and so what good lessons for us.
What are you doing to strengthen your mind and build your senses?
Do something today – it's your decision and your choice.
Remember You Create Your Day by the way You Think! Be Present!
Go make it a Magnificent Day!
Blessings, Shawna
www.RelationalResults.com