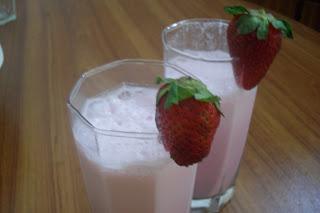 Strawberries are in season and who would not love to eat the sweet juicy deep red strawberries. They always seem so tempting to me especially when they have a dark red color. But today, I thought of not eating them right away but to make something more tastier from them.
To make 1 glass, you need:
4 to 5 stawberries
1 scoop strawberry ice cream
2 tsp sugar
3/4 glass of milk
First add stawberries with tops removed and half of the milk in blender. Shake it well so that the strawberries mix up well with the milk. Now add the remaining ingredients and blend well. Take a glass with some ice cubes and pour the smoothie in it. Chill and enjoy!