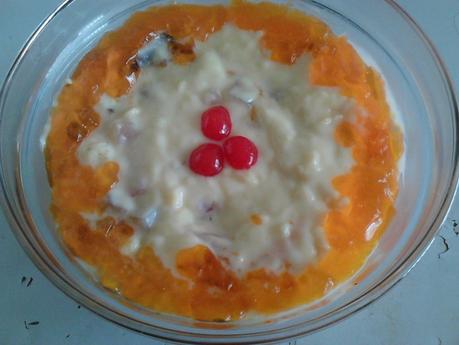 Here we go for the traditional fruit trifle. Although a very common dessert but still as favorite as ever especially a hit with my kids. Here goes the recipe:
Ingredients:
Vanilla Custard made with 1/2 ltr milk
Orange Jelly         1 Packet
Mix fruit in syrup  1 small Can
1 small plain cake loaf cut into slices
Recipe:
Make custard with half liter milk according to the instructions on the box and chill in refrigerator. Similarly make the jelly with instructions on the box.
Take a bowl. Place slices of cake with the walls of the bowl. Pour the syrup from fruits over the cake slices. Reserve the cherries from the fruits for later decoration. Now add a layer of fruits over the cake. Then a layer of chilled custard. Pour half the custard and save the remaining for another layer. Then a layer of orange jelly. Save some jelly for decoration. Now pour the remaining custard. Crush the remaining jelly with a spoon and sprinkle on the sides of the custard making a circle. Place the cherries from the fruits on the center to decorate.