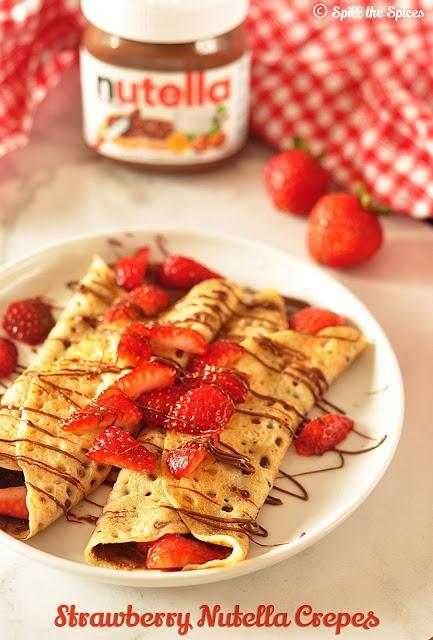 For this month's Bread Baker's Mayuri of Mayuri's Jikoni suggested pancakes from around the world as the theme. I was surprised to learn about so many different variety of pancakes from different countries. There were quite a few I want to try but for today I chose to make French crepes.
Today being Valentine's day, I felt strawberries and nutella would make an apt filling for these delicious crepes. I followed Julia Child's basic crepes recipe, which I found in this site. I spread some nutella generously on the lacy sweet crepes and stopped with sliced strawberries. Need I say more?? Let's jump into the recipe now.
Ingredients:
1 cup all-purpose flour
1 cup cold milk
2 eggs
1 tsp sugar
1 tsp vanilla extract
1/4 tsp salt
2 tbsp melted butter
Method:
1. Combine the eggs, milk, vanilla extract and butter in a large bowl. Whisk the flour, sugar and salt.
2. Add to the milk mixture and whisk until well combined. Batter should be smooth and lump-free.
3. Cover the batter with cling wrap and refrigerate the batter up to 2 hours.
4. Heat a frying pan over medium heat and add about 1/4 tsp butter and brush the butter on the frying pan.
5. Pour 1/4 cup batter into the center of the pan and swirl the pan so that the batter form a circle.
6. Cook for about 30 seconds to 1 minute or until the edges start to turn slightly brown.
7. Using a spatula, flip the crepe and cook the other side.
Notes:
If you find the batter is too thick, adjust by adding little milk or water.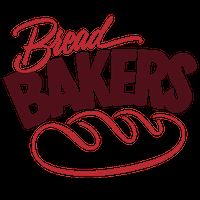 #BreadBakers is a group of bread loving bakers who get together once a month to bake bread with a common ingredient or theme. Follow our Pinterest board
right here
. Links are also updated each month on this home page.
We take turns hosting each month and choosing the theme/ingredient. If you are a food blogger and would like to join us, just send Stacy an email with your blog URL to
[email protected]
.
Check out the Pancakes from different parts of the world that our fellow Bread Bakers have baked this month: