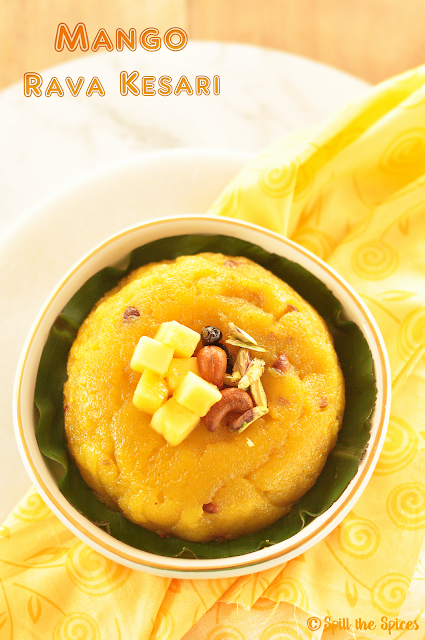 When I got the first box of mangoes couple of weeks back I was planning to make few dishes out of them to share here. I whipped up this
delicious tropical smoothie with these mangoes and pineapple
. I wanted to try some desserts but we couldn't resist ourselves so we gobbled up the remaining mangoes!! The second box of mangoes were not that great tasting – it was fibrous and less sweet – so I had to drop my plans to make dessert. During the holidays, I got couple of sweet Honey Gold mangoes and I made this kesari/sheera with it.
Rava kesari
is any easy and quick Indian sweet made with semolina, sugar, ghee, cashews and raisins. And kesari is my pick when I have guests at home because it's such a straightforward recipe that can't go wrong much. Adding fruits to the traditional  kesari takes the simple sweet to another level. My favorite is pineapple rava kesari which I will share soon.  For the mango rava kesari, I cooked the pureed mango for few minutes to get a more intense fruity mango flavor in the kesari and added some chopped mango cubes at the end. The pureed mango gives a nice yellow color, so you don't need to add any artificial food color. When mangoes are in season, do try this delicious mango kesari.
Ingredients:
1/4 cup ghee 10 cashewnuts, chopped 5-6 raisins 1/2 cup rava semolina 1 cup mango puree / 1 medium-size mango 1 cup sugar 1/4 teaspoon cardamom powder 1/3 cup chopped mango
1 tablespoon sliced pistachios
Method:
1. Scoop out the mango pulp from the mango and blend to a smooth puree in a blender. 2. In a pan, add 2 teaspoon ghee and fry the cashewnuts till golden. Set aside. Add the raisins and fry till it plumps. Set aside. 3. In the same pan add 1 tablespoon ghee and add semolina. Fry in medium heat until the semolina is roasted well without changing color. Set aside. 4. In the same pan add 1 tsp ghee and cook the mango puree for about 5-8 minutes. Add 1 1/2 cup water and bring to boil. 5. Once the water boil turn down the heat to low and add the semolina gradually, stirring constantly to avoid lumps. 6. Once the semolina is cooked add the sugar, cardamom powder and mix well. Add half of the remaining ghee in between. 7. When the kesari starts to leave side of the pan, add the ghee, chopped mangoes, cashewnuts, raisins, pistachios and mix well.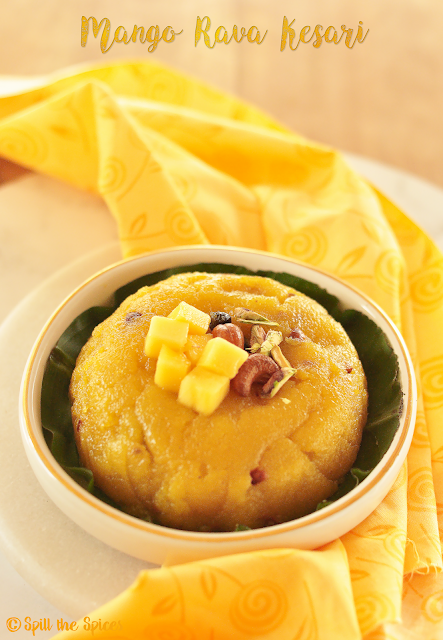 Notes and Tips
Choose mangoes that are ripe and sweet.
You can also use tinned mango pulp instead of fresh mango puree. You will have to adjust the amount of sugar as tinned pulp is sweetened.