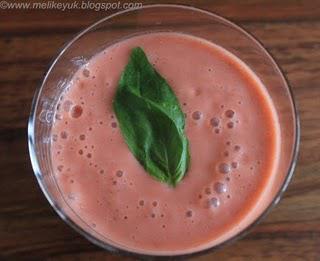 Strawberry, Lime and Basil Smoothie
With Wimbledon season now over, my desire for fresh strawberries has not abated. Fortunately, the nice people at
Good Natured
sent me some to try. They are free of pesticide residue and are currently in stock at major supermarkets. I wasn't disappointed. The fragrance brought back memories of my last visit to a fruit market in Provence, and rendered me into a mouth watering degenerate. I wanted to create something refreshing and seasonal for Summer using the juicy qualities of the remaining strawberries and a smoothie seemed to be the obvious choice.
Here is my first entry into this year's Food Blogger Connect competition where
Cuisinart
is giving away 2 tickets to attend the weekend conference. Successful winners will also have the chance to participate in a cooking demonstration hosted by the lovely
Anjum Anand
. What an exciting prize!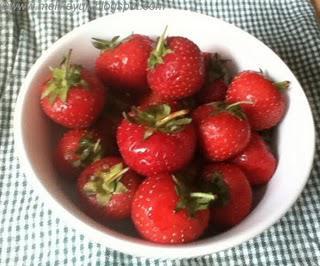 Good Natured Strawberries - Check out these babies!
Timing:
Preparation: 5 minutes
Portion Control:
Serves 2 (250ml per serving)
Ingredients:
2 cups of strawberries, pre-washed
Juice of half a lime
2 generous scoops of vanilla ice cream
6 medium to large sized ice cubes
3 large basil leaves
Squeeze of  clear runny honey (if required)
2 small basil leaves to garnish
Directions:
Remove stalks and chop the strawberries in half and put them in a blender along with the lime juice, large basil leaves, vanilla ice cream and ice cubes.
Blend the mixture for around 20 seconds and taste for sweetness. If required, add a squeeze of clear runny honey and re-pulse, making sure the ice cubes are sufficiently crushed.
Serve immediately while chilled and garnish with a small basil leaf.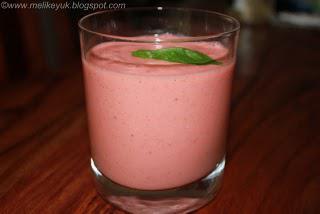 Dive into Summer!
This smoothie makes for a lovely start to your day. I hope you enjoy it as much as I do!