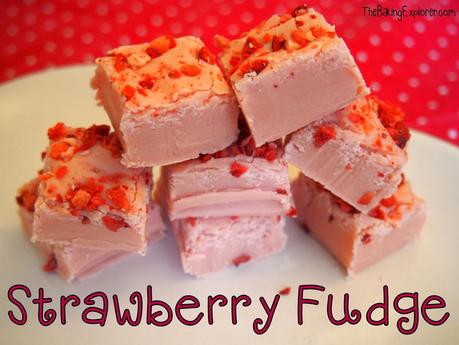 Yay! I'm back as my laptop is all fixed and I can finally post this yummy fudge that I made my boyfriend for Valentine's Day. Sorry the recipe is late, but don't let that stop you from making this fudge for any occassion! Having no laptop has been much more of a struggle than I expected, turns out I am way more addicted to blogging that I realised...! I have made fudge a few times now. I did vanilla and Baileys flavours around Christmas time for gifts to my family and boyfriend (otherwise known as the fudge monster). Once he had devoured the Christmas fudge, most of it before Christmas Day, he asked if I could make him some strawberry fudge one day. I struggled a bit with a recipe as a lot of fudge recipes use marshmallows (especially strawberry ones for some reason), and my boyfriend is a vegetarian so he can't eat them because they contain gelatine. This one is cobbled together and honestly I didn't know if it would work! But it turned out to be the best fudge I have made so far. Here's how I made it...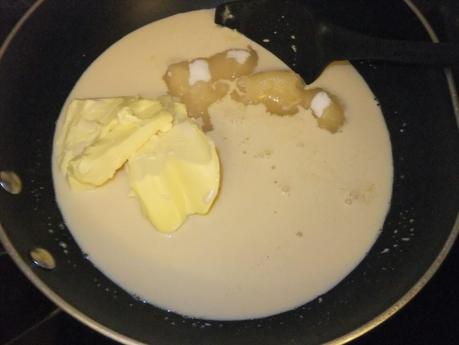 I started with 500g caster sugar, 100g butter and 400g evaporated milk on a low-medium heat in a large pan. I stirred gently until the sugar and butter dissolved fully.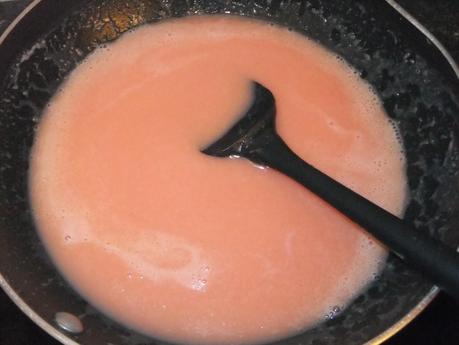 I added food colouring until it turned a nice light pink color. Then I added strawberry flavouring, I used about 8 drops.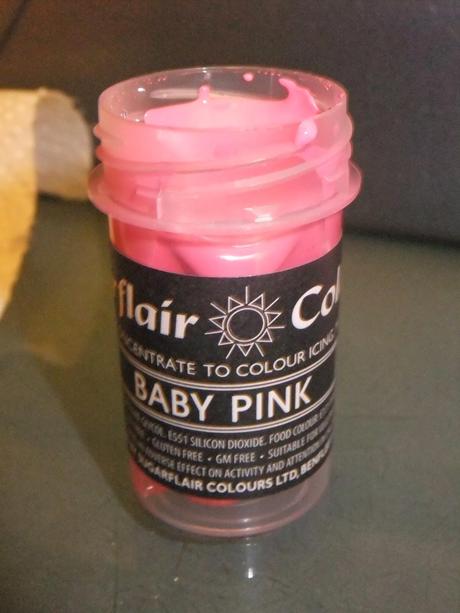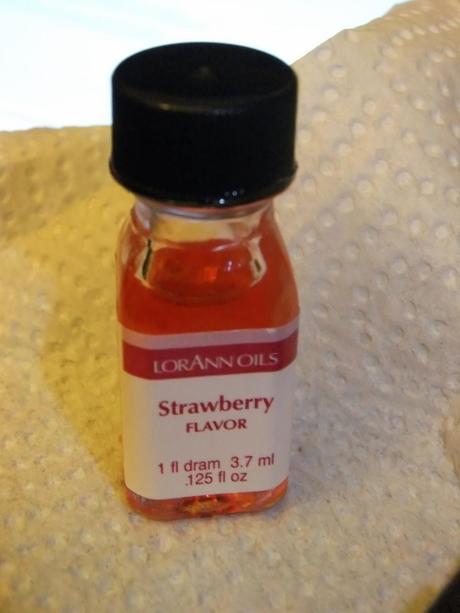 I used Sugarflair in Baby Pink and LorAnn Strawberry flavor oil.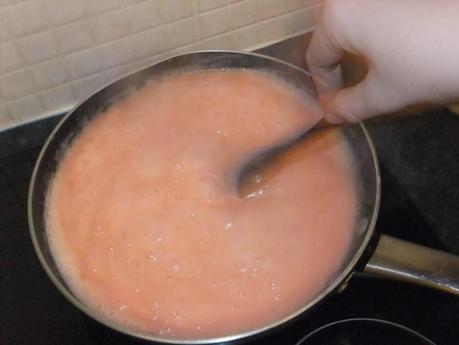 Then I turned up the heat! I boiled the mixture for 10 minutes and stirred constantly. It does bubble away quite a lot and the mixture rises in the pan - use a bigger pan than you think you'll need! A silicone spatula for stirring is also a must.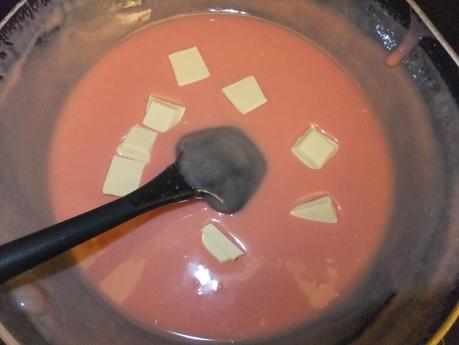 Once it was done I took it off the heat and stirred in 200g white chocolate.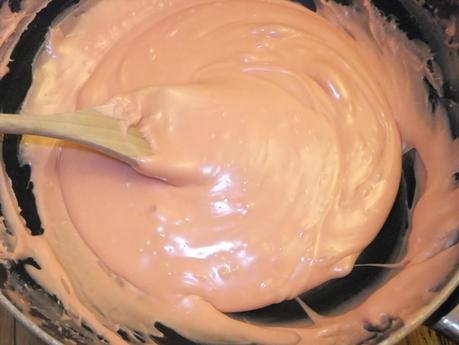 Finally I beat the fudge for about 10 minutes with a wooden spoon. This means stirring it quite aggressively! It will thicken up and start to lose it's glossy finish.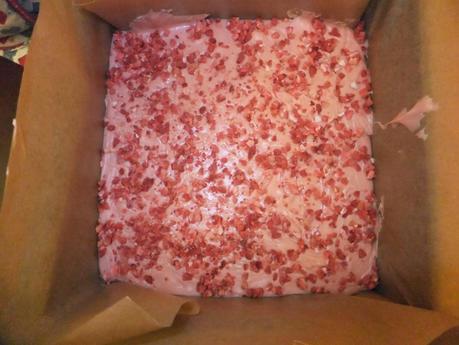 Then I poured it into a square tin lined with greaseproof baking paper.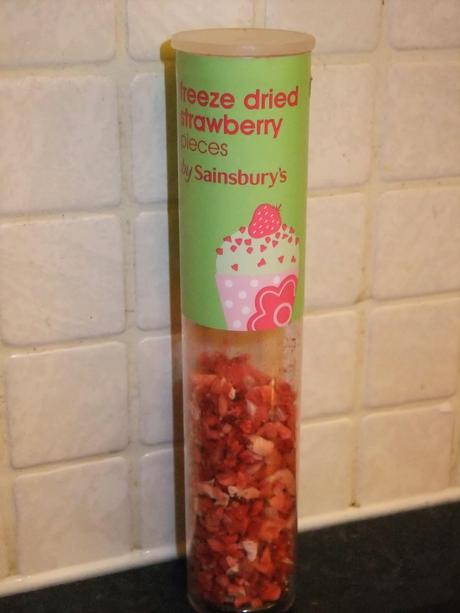 I sprinkled freeze dried strawberry pieces on top for an extra punch of fruity flavour, it looks really pretty too! I pressed the pieces into the fudge gently with my whole palm to make sure it stuck and so as not to cause any dents in the fudge.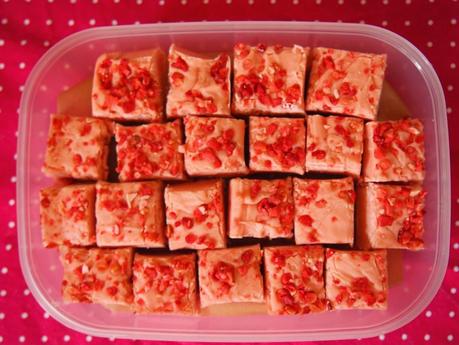 I left the fudge to cool overnight in the tin, then took it out and sliced it in the morning. My boyfriend loved this and started munching on it straight away! I'm really pleased with how the recipe turned out and I am going to make more fudge in the future with different flavours and colours. This recipe is completely versatile and you can add any color or flavor you fancy!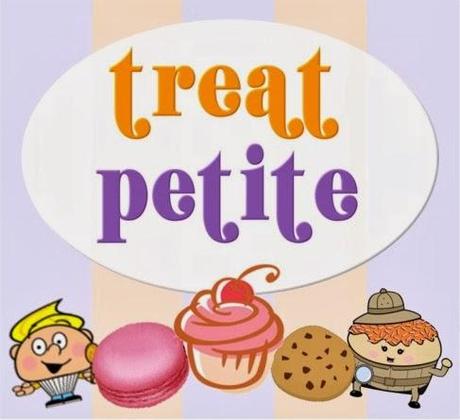 I also entered this into myself and Cakeyboi's monthly baking challenge Treat Petite, this month's theme was Loved Ones and I made this for my loved one!