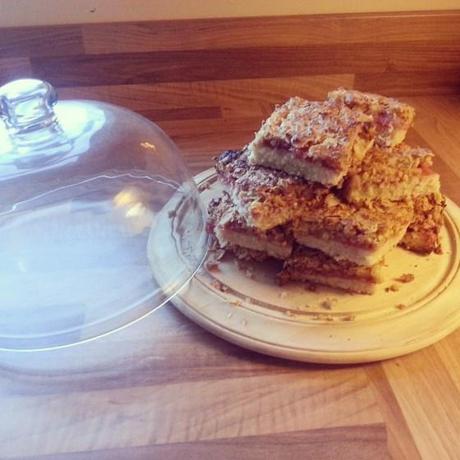 These bad boys literally taste of summer. Three of my favorite ingredients all in one! My daughter woke me ridiculously early yesterday morning and while I gave her breakfast I watched some cook shows. Unfortunately since returning to work I don't have a lot of time for watching tv, particularly food shows. Being up so early and with a mountain of ironing to be done, I switched on the tv. These were being made and they sounded so divine I just had to try them! They would be perfect for a picnic in summer.
For the Base:
280g softened butter
160g caster sugar
400g plain flour
1 tsp baking powder
120g dessicated coconut
Cold water to bind
Turn the oven on to 180°. Put the butter and flour into a bowl and rub together until it resembles fine breadcrumbs. Next add the sugar, coconut and baking powder and stir well to combine. Add a little cold water to combine. Be very careful not to add too much as it will make the mixture too sticky. Once combined press into a 20 x 30 swiss roll tin. Bake for approx 15 minutes until golden on top. Once cooked, remove from the oven and allow to cool in the tray.
For the filling:
♡ 300g strawberry jam
♡ 350g strawberries, sliced
Omce the base is cooled, spread the strawberry jam evenly and place the strawberries on top.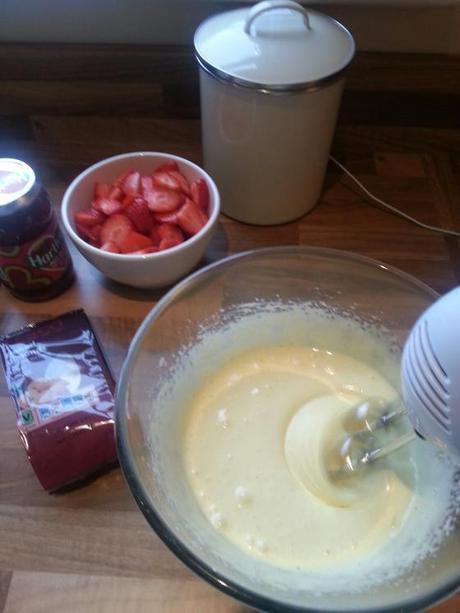 To make the base:
♡ 2 large eggs
♡ 90g sugar
♡ 120g rolled oats
♡ 120g flaked almonds
♡ 30g dessicated coconut
Using an electric whisk, beat the sugar and eggs for at least 5 minutes until pale and fluffy. They should get paler than they were when you started. Once the 5 minutes is up, add the oats, almonds & coconut and combine with a spatula. Spread over the base topped with jam and fruit. Place back in the oven at the same temperature for another 15 minutes until golden and set. Enjoy ♡