13 April, 2015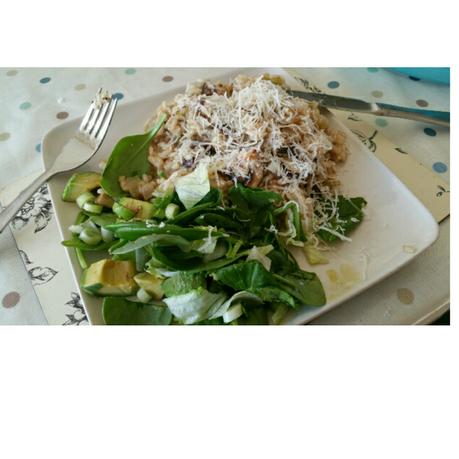 This week in the Emmarose household it's Italian inspired and we're kicking the week off with a simple risotto. Whenever I roast a chicken, if I'm not making gravy, I still roast it with plenty of white wine or dry vermouth. This makes a lovely sauce, that when I am making gravy I just reduce slowly with some extra of the vermouth in the roasting pan. When gravy isn't on the menu I keep this precious liquid in a jar in the fridge and use by the use by date on the chicken. You'll notice that the fat from the chicken solidifies on top so you can spoon it off easily and just use the jelly part underneath. To me, this is like gold dust. Chickeny heaven with a hint of wine and whatever herbs you used with the chicken. I almost always use this for risotto, stirring it in at the end for maximum flavour. You could also make a gravy again a couple of days later, which would make a divine onion gravy for bangers and mash!
However if you don't have this precious chicken gold waiting patiently in your fridge you can still go on ahead and make this risotto. Use a really nice, ideally homemade chicken stock. Good shop bought ones are fine too. Start by finely dicing one large Spanish onion and two celery sticks. Add to some olive oil that has been heated over a medium heat in a large heavy bottomed saucepan. Crush in two garlic cloves and a pinch of salt and pepper. Allow to sauté for about 10 minutes until the onions and celery have softened.
Next I add in a handful of arborio or carnaroli rice per person. This is just the measure I use and it's plenty for us. However if you want more exact instructions, just follow the quantities recommended on the back of the pack. I allow this to cook with the onions and celery for about 5 minutes and then add a large glass of white wine or vermouth (250ml). Stir until all the wine is absorbed. I start by making up 1 litre of chicken stock and add it to the rice a ladle full at a time. You may need more or less, it's difficult to give an exact quantity. The best way to know your rice is done is to taste it. It should be creamy and soft but the rice should still have a slight bite to it.
It's best to get someone to help you at this stage to add the stock and stir the rice (a willing husband or child old enough). This will allow you to get on with other bits. Boil the kettle and soak one pack of porch in mushrooms (approx 100g), for 5 minutes. When they've soaked for long enough drain the liquid into the rice and allow it to absorb in while still stirring. Chop the porch in mushrooms and set aside.
Chop one pack of chestnut mushrooms (150g) into quarters. Add a splash of Olive oil and a knob of butter to a frying pan and when melted fry the mushrooms. Don't stir them too much, you want them to brown. Set aside when cooked. Once the rice is ready and the chicken jelly I mentioned above if you have it. Grate in some Parmesan, taste to check you've enough, and a generous grate of black pepper. Stir in the mushrooms, both kinds, and your ready to go.
I serve this with a green salad of iceberg lettuce, spinach leaves, spring onion, avacado and sugar snap peas. Make a quick french dressing of 3 tablespoons olive oil and 1 tablespoon of white wine vinegar. Shake in a jar with a pinch of salt & pepper and drench your salad.
Next up is carbonara, which I've never made properly so tune in over the next few days to see how I got on 😛