25 March, 2015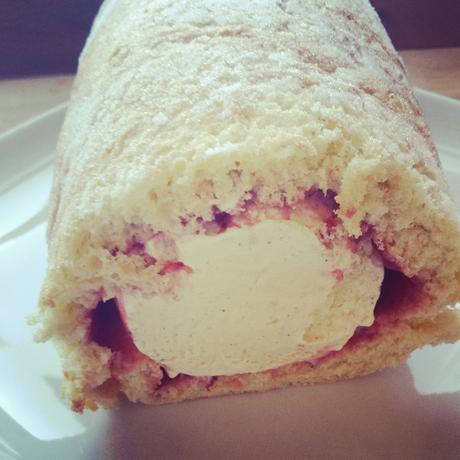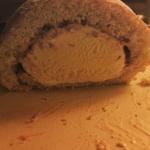 Last weekend, I think, felt like the start of spring. The sun was shining, I could dry laundry outdoors(!!) and the days started to feel longer. What better way to celebrate than with an ice cream cake (as my children call it). It's simple to make and looks impressive, what's not to love? You could of course make your own ice cream and that would make this make even more impressive, but last weekend I was recovering from a tummy bug and just wanted to keep it simple and easy. If you were making your own ice cream you could also experiment with flavours, chocolate ice cream with an orange flavoured sponge or jam.
To start you'll need the following:
900ml tub ice cream(leave it in the fridge for 10 mins to soften.
4 eggs
125ml golden caster sugar
125ml self raising flour
6 tbsp raspberry jam
Zest of half a lemon
Start by putting your oven on to 190 degrees Celsius. Grease and line a swiss roll tin, approx. 25cm x 35cm. Roll out some parchment paper and scoop the ice cream out onto it. Roll it up and shape it into a log, approximately the width of the short end of your swiss roll tin. Put it in the freezer to firm up again.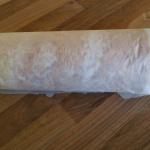 To make your sponge put the four eggs into a bowl with the caster sugar and using an electric whisk mix until light and fluffy. This will take at least 5 minutes. At least! Sieve in the flour and fold in using a metal spoon along with the lemon zest.
Once ready, pour into the tin and tip the tin from side to side to move the mixture around. Don't be tempted to spread it with a spoon or bang the tray. The only way this sponge has air in it is from the beating of the eggs and sugar. If you bang it or spread it your knock the air out and you'll have a tougher sponge.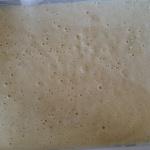 Bake for 10-12 minutes until golden brown. Roll out a sheet of parchment paper and sprinkle with caster sugar. When your sponge is done and is still warm, flip it out onto the parchment covered with sugar and roll up. Leave to cool.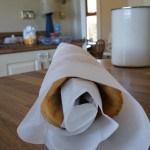 When your ready to eat your cake unroll the sponge, spread the jam all over the non-sugared side of the sponge. Take your ice cream out of the freezer an place on one end of the sponge and roll up. Enjoy before the ice cream melts! This can be kept in the freezer if you have some left and when you want to finish it off just leave it out for about 10-15 minutes before you eat it to allow the sponge to defrost slightly. Be careful however, melted ice cream should never be refrozen. So if you leave it out too long you will have to eat it or dispose of it. This cake is great for a crowd - You can prepare it in advance and it's quick and easy to assemble. And it's best eaten on the day. Enjoy!