I will never quite look at Porridge Oats in the same way again. Growing up in Scotland, my father used to take porridge for breakfast during the winter months and I never understood the appeal. In my mind it was just a thick, gloopy consistency, void of flavour and I incorrectly wrote Porridge Oats off. I was reacquainted with Porridge Oats recently when I made granola for breakfast and I am glad to say we are firm friends once more.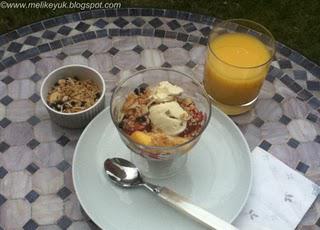 Strawberry and Nectarine Parfait with Maple Granola
This breakfast recipe is inspired by
Bon Appétit
magazine. I am changing it slightly in that I am using nectarines instead of peaches and dried blueberries instead of raisins.
Time
:
Preparation: 10 minutes
Cooking: 18 minutes
Portion Control: 
Serves 6
Ingredients
:
1.5 cups of Porridge Oats
1/4 cup of flaked almonds, coarsely chopped
1/4 cup plus 3 tbsp of maple syrup
1.5 tsp of unsalted butter
1/3 cup of dried blueberries
3 cups of strawberries, sliced
3 cups of thinly sliced pitted and peeled nectarines
Vanilla Frozen Yoghurt (optional)
Directions:
Preheat oven to 180 degrees Celsius.
Mix oats and almonds in a 13"x9"x2" baking pan.
Combine 1/4 maple syrup and butter in heavy small saucepan. Bring to boil.
Pour maple syrup mixture over oat mixture and stir to bind the ingredients together.
Bake in the oven for 10 minutes, stirring occasionally.
Add the dried blueberries to the oat mixture and stir together. Bake until the mixture is golden and crisp, stirring occasionally, about 8 minutes longer.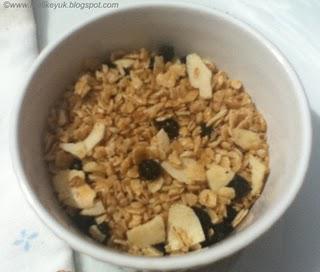 Granola: Golden and Crispy texture
Cool the granola completely in the pan.
Gently toss together the strawberries, nectarines and the remaining 3 tbsp of maple syrup in a large bowl.
Divide the fruit mixture among 6 bowls or glasses. Sprinkle each parfait with granola, dividing equally.
Top each with a scoop of frozen yoghurt, if desired, and serve.
The granola can be made in advance (up to 1 week ahead) but should be stored in an airtight container. I quite like eating it semi warm. It really does brighten up your morning when you bite into the warm crunchy, nutty texture.With it being really easy to make, I will never buy granola again!