Lying on the outskirts of Denver is a modest warehouse that Stranahan's Distillery calls home. We're going Inside its well-branded exterior to take a look at the beating heart of Colorado's booming craft whiskey market.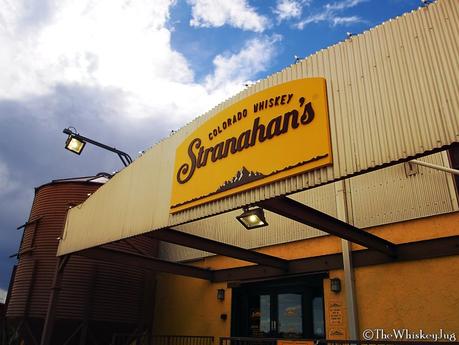 If you're not familiar with Stanahan's the quick and dirty description is that they're a distillery based out of Denver, Colorado and they make American Single Malts. It was started by Jess Graber back in 2004 and is named after the owner of Flying Dog Brewery, George Stranahan, whose beer Jess initially started distilling and was an early partner in the distillery. The current Master Distiller is Rob Dietrich who is pictured below serving us some Stranahan's in the distillery bar where our tour began.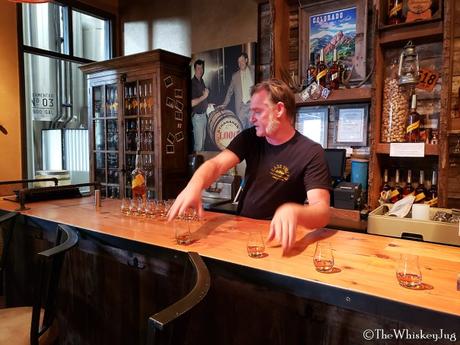 Here in the bar area of Stranahan's Rob gave us a super quick history of the distillery and what they do, why they do it and what they're working on now. We, a group of booze writers, sipped on glasses of Stranahan's flagship single malt – a whiskey that keeps getting better – and then loaded up our recording and photo gear and headed into the distillery.
The distillery was all but deserted when we entered and the normal sounds of distilling were absent. The next day was their annual Cask Thief festival and outside of a couple of folks doing some maintenance and cleaning the distillery was quiet and still. If it hadn't been for Rob and the gaggle of writers and PR folks you'd be forgiven for feeling like you were trespassing in a recently shuttered business.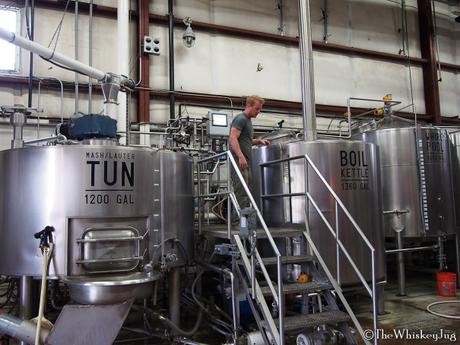 The tour started at the beginning of their distilling process where they feed a proprietary 4-malt-blend mash into their 1,200-gallon mash tun and add water to make a "malt oatmeal". From there it all gets pumped into their 1,360-gallon boiler to… well… boil which kills any bad bacteria and further extracts starch and enzymes. After a boil and a cool it's pumped into their whirlpool which puts the liquid into a spin and sends any solids, like husks, to the bottom to be removed.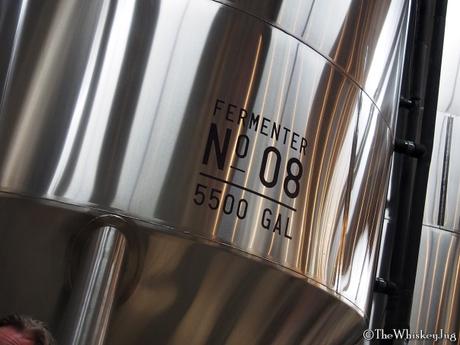 And then it's off to fermentation.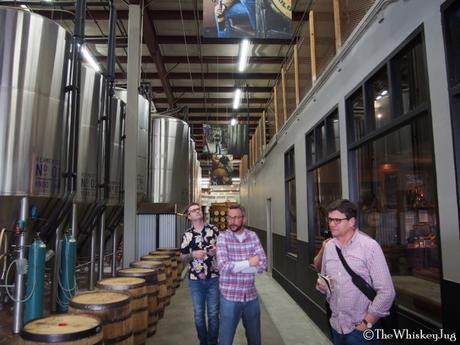 Inside the distillery is a row of massive 5,500-gallon glycol jacketed fermenters which run on a 6-day fermentation. The glycol jackets allow them to control the temperature of the fermentors so it doesn't get too hot and kill off the yeast, who are arguably the hardest workers in any distillery, brewery, winery, etc. Around the clock the little organisms are eating the sugar and turning it into alcohol, essentially creating a beer, which, when it's ready, gets pumped out of the fermentors and into their 6,000-gallon wash storage tanks.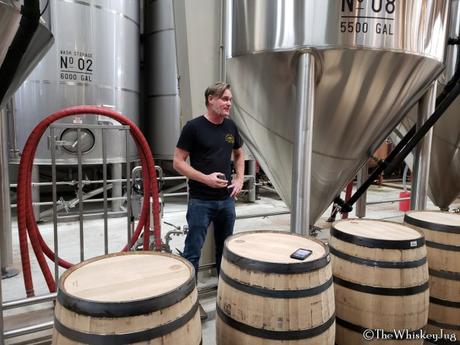 Stranahan's uses a proprietary yeast which they'll propagate for five generations before starting over. They also continually experiment with yeast because of the impact it has on the final product. According to Rob, despite all their experiments, they've yet to find a yeast that turns out a better product than what they have now – but that doesn't mean they won't find one in the future. Their mission is simply "the best".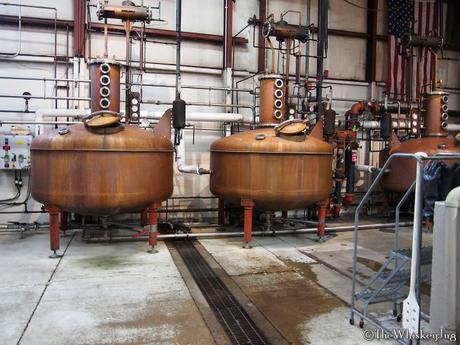 Past the fermentors the bulbous 800-gallon copper pot-column hybrid stills in Stranahan's stand against the wall like a trio of old men watching from a patio; they seem jovial, but don't step on their lawn, they run hot. These three clock into work six days a week to turn 800 gallons of beer into 80 to 100 gallons of spirit, the distillery crew only cuts the tails here. Once these three have done their job, and new spirit vapor has been sent to the condenser, it gets fed into their doublers for the second distillation.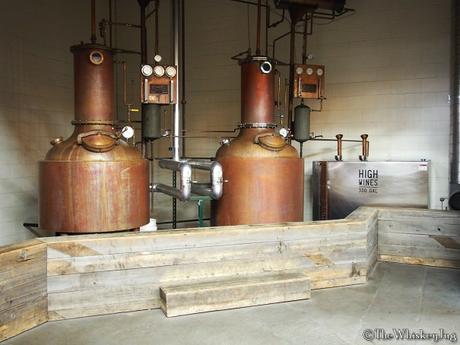 Smaller and looking like alien cyclopses, the steam jacketed 160-gallon spirit stills/doublers sit safely in an explosion-proof room and churn out 90-100 gallons of 150 proof spirit from each batch they run. Heads and tails are both cut from the second run and what comes out of these stills again gets pumped into a condenser and from there to steel tanks. At this point the distillation process is done and it's time to let the wood do its work.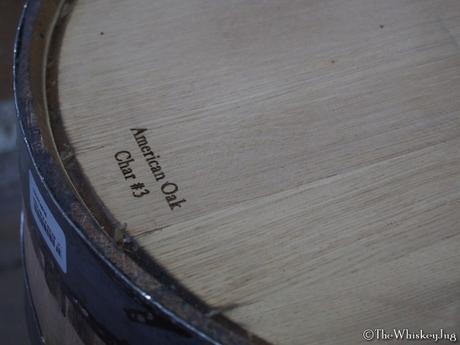 Stranahan's uses a #3 char on their barrels, eschewing the common #4, aka Alligator char, to keep the barrel from completely overtaking the malt. They get their barrels from the Independent Stave company who makes the barrels for a lot of the big distilleries like Jim Beam and Wild Turkey. Before putting spirit into the barrels they use tasty tasty Colorado water to bring the spirit down from 150 proof to 110 proof.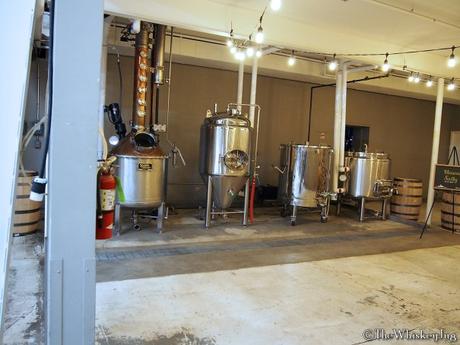 Since there was no crew on-hand we didn't watch a cask being filled or see any part of that operation, and instead took a look at their 125-gallon experimental still setup. A replication of their distillery setup, but in miniature, this is what they use to get inventive and try out new techniques, mashes, yeast, product ideas and so on. A smile crept over Rob's face when he was talking about it, he obviously loves that part of the distillery.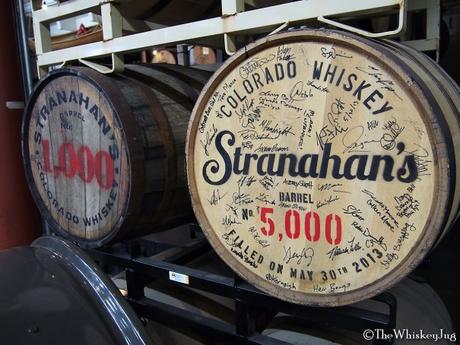 From there it was off to the barrel warehouse. We passed three historic casks as we entered the back of the distillery. The 1,000th and 5,000 casks they filled were at the entrance welcoming us to that heady aroma of aging whiskey while the 10,000th sat on the floor. Waiting temptingly for tomorrow night, when we would get to taste its liquid – straight from the cask, I gave it a lusty stare and a see-you-later nod as I passed.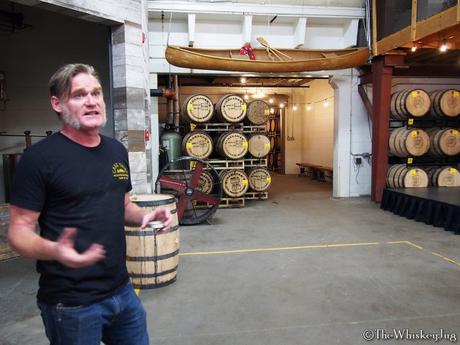 On our way into the barrel room Rob told us about the American Single Malt Whisky Commission they helped start along with Westland, Virginia Distillery, FEW, and others. Their objective is to petition the TTB to add a 42nd official designation into their annuls and allow America Single Malt to claim its place. They also want to allow for designation by region like with Scotch: Highland, Lowland, etc. in Scotland and Texas, Rocky Mountain, Virginia, etc. in the USA.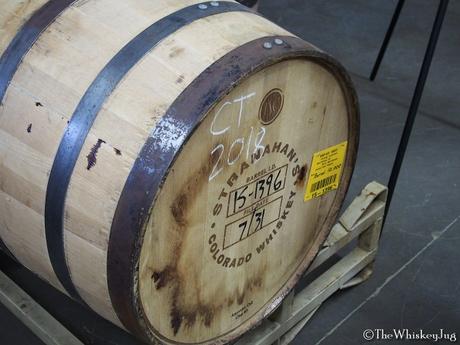 Once in the barrel warehouse, Rob spent a few minutes chatting about the barrels and how they only use them once in the distillery, like a bourbon. After Stranahan's is done with them they start their second life with local craft brewers, barrel brokers and surprisingly, Bushmills. They ship their barrels over to them and in addition to just offloading barrels they're working on some projects he couldn't talk about. For a room full of booze nerds and writers that's a hell of a cliffhanger.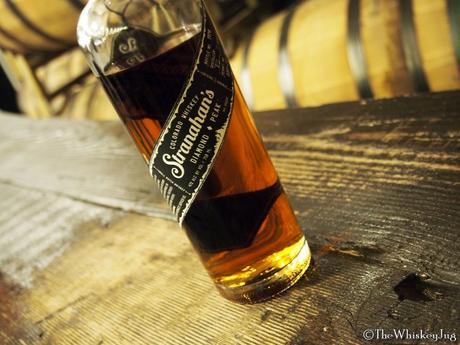 After giving us the lowdown on the casks Rob told us to break out our glasses and as we did he pulled out a bottle of the Diamond Peak and the latest Snowflake from behind the makeshift bar set up in the barrelhouse. This is where we learned that the Diamond Peak is aged for a minimum of 4 years, the standard being 2-3 years, and that Rob sees the Snowflake as whiskey art.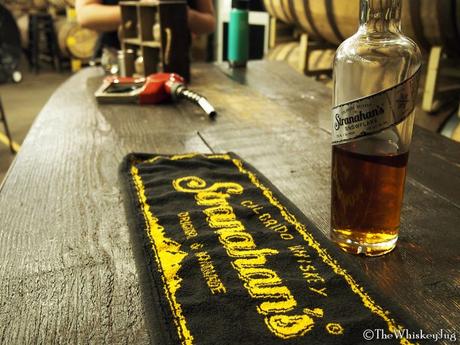 When creating each Snowflake Rob surveys his barrel options which include Madeira, Rum, Cognac, Malbec, Tempranillo, Sangiovese, Port and Oloroso – to name a few. He takes samples of everything at hand and then works on blends and ratios to make something unique. It's not unlike the approach Bruichladdich takes to its Dark Arts release; a broad mix of casks and never the same.
This brief whiskey break was much needed, as booze writers we need to keep our blood at a certain ABV or the creativity dries up and we start to see the world as it is instead of how we want it to be. This booze break kept us in check and we also learned a bit more about this charming Wolverine stunt double named Rob we would be spending a lot of time with on this trip. While admiring the dented and beaten still that Stranahan's got their start on he explained how he ended up here.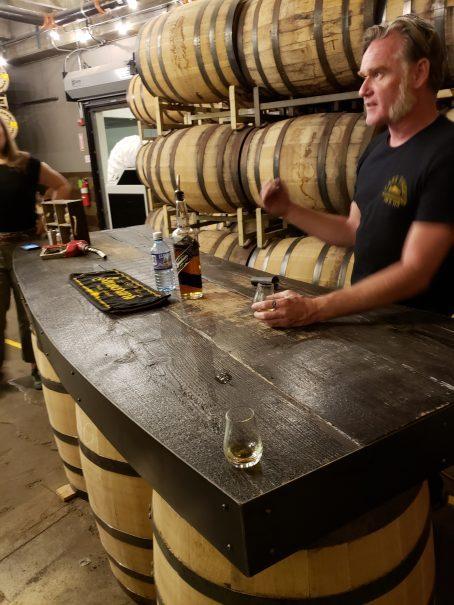 Turns out, like Wolverine, Rob is a military vet, doing tours in three different combat zones, and when he finally left the military he was looking for something that involved chaos and people to fill his time. That's when he got into the music industry, specifically live shows. His first show was the Tibetan Freedom Concert and he fell in love with everything that went into making a live show come together.
After a while, being on the road constantly got to him and he started looking for something that kept him in Colorado. He ended up getting in league with Jess Graber who taught him distilling and the chaos, and the managing of chaotic people, which is the native environment of a startup distillery, was a perfect fit. Rob is not one to sit still or sit on laurels. He'll do everything from distilling to quality check to plunging toilets to stringing lights or lining up barrels for a festival.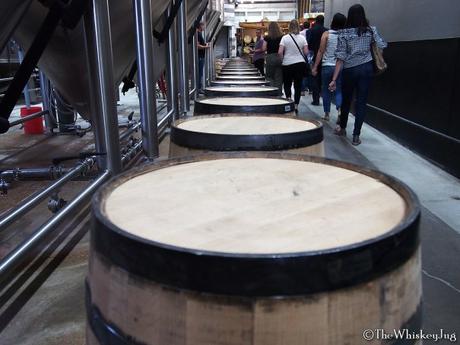 The way he sees being a master distiller is that it means… well, why I don't let him tell you. Here's a direct quote I recorded. "I have the title of Master Distiller and all that means to me is that I have to keep learning. There is so much to learn, so much to be innovative with. It doesn't mean I've hit a plateau and I know everything because I don't. All it tells me is I don't know anything. That there's way more to learn, it's about going down that constant road of discovery and having fun."
Seriously, how cool is that? That's the kind of attitude you want in a Master Distiller, someone who knows there's always something more to learn. Side note, if you're wondering how that original 5 gallon Stranahan's still got all banged up it was because of a bear. When Jess Graber started out he was distilling in a shed higher up in the mountains. One night he set the still out to cool and a bear decided it smelled good. The bear tried to get into it and ended up knocking it down the side of a hill.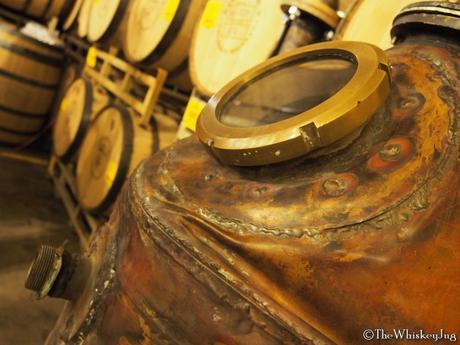 The still is beaten, but not broken and is in-fact totally usable. Another bit a info Rob let drop, yet another cliffhanger, is that there might, maybe, no promises, but possibly, be something coming in the future that has to do with that still. He loves building suspense that one.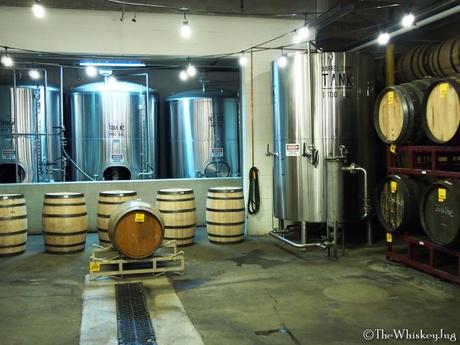 We left the barrel warehouse and took a look at the barrel dumping station which was prepped and ready for the festival tomorrow and not for dumping casks.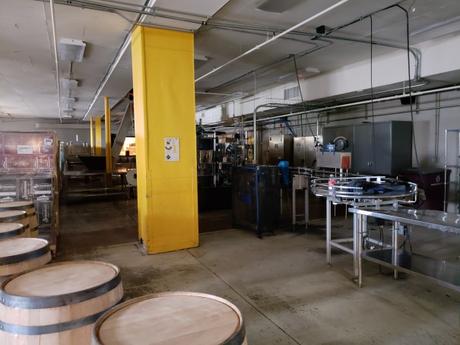 From there we walked over to the bottling line that had been shut down as they prepped for tomorrow's Cask Thief. Then it was off to the last stop, the tasting room. Which we didn't use because it was full of boxes, again for tomorrow's event. But they did have a pretty sweet American "flag" hanging on the wall made from Stranahan's barrel staves and that right there is where we're going to leave this tale. We'll pick it up in part two; the 2018 Cask Thief festival.
Cheers!