Was the late Michael Jackson's
arm splint
inspired by CP kids? Unsubstantiated reports say that he had it designed to remind himself of children's suffering whilst in concert. Reader, I don't know about you, but that had me rolling my eyes in mild irritation.
Last week Isobel had an arm splint fitted for daily use on her right hand. Instead of the all-
black or white
tones of the King of Pop's version (sorry - couldn't resist) hers is resplendent with rainbow accents - velcro straps of yellow, red and blue, accompanied by a boned grosgrain strip of green moulded to her palm. She is to wear it for two hours every day.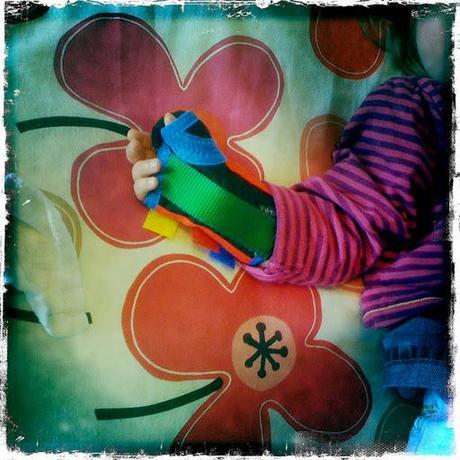 She seems happier with it than her last design, a simpler wrist-length blue neoprene affair that divided her thumb from the rest of her fingers. That had the knack of turning her thumb purple with suffocation, so much so that I was checking it every three minutes she had it on.
With the new splint, Isobel is at least observing how her hand opens and closes, a bit like Arnie's
Terminator
in
Judgement Day
. Helen, her physio, says that's the point of having it in so many colours. Imagine becoming aware of your hand for the first time. Wouldn't you be fascinated?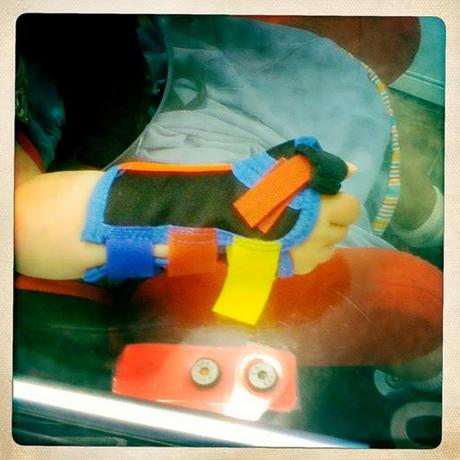 And that's not all. Isobel is showing remarkable determination to stand, often straightening her shoulders in line with her hips. Sometimes, she will even try and push your hand away.
Even so, her low-tone trunk - the bane of her weight-bearing struggle - troubles us still. At the same
orthotics
fitting last week, she was also measured for what I can only call a corset: one that fits round the waist, with boning down the back to straighten her spine.
I wasn't there, but in my absence Miles chose one in lilac gingham: an allusion to Jean-Paul Gaultier, perhaps?
As I write, the corset is still being fitted - they're sewing an edging round the top to avoid chafing. Isobel is not to wear it for activities, but instead to support her efforts to sit and stand. With it on, Miles tells me, her poise is transformed like never before. I can't wait to see her in it.
Did somebody want to see a video of Isobel standing? When she does so she often amazes watchers with her long legs. OK, you win. Here goes - the first ever video of her standing (but don't expect too much):