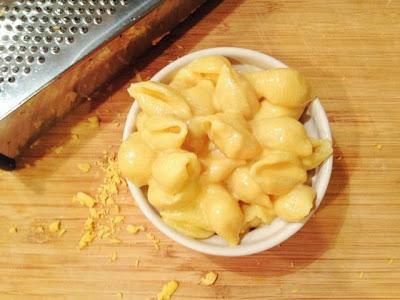 I know. I have a mac & cheese obsession. I admit it. I have at least done ten mac & cheese recipes on the blog it has its own category on my recipes page! Speaking of mac & cheese is that I prefer it pre-baking. I like it super creamy like just off the stove top. If you are with me then this recipe is for you. And yes, if you like baking mac and cheese with bread crumbs you can do that too!
I actually had to bring a dish to a potluck for work and as almost every pot luck is we were lacking in main courses. If someone offers to bring more brownies or cupcakes I swear to God... No seriously though, it was clear we needed mac & cheese. And fast. This recipe from Alton Brown was not only super simple with limited ingredients it took me less than thirty minutes to make. I have never made mac & cheese with evaporated milk before but it is magical. You can even use low fat evaporated milk if you want to save some calories and use low fat cheddar cheese. Next time your kids ask for the boxed stuff save everyone's taste buds and make this mac & cheese! It is delicious!

Ingredients1/2 pound elbow macaroni or shells4 tablespoons butter2 eggs6 ounces evaporated milk1/2 teaspoon hot sauce1 teaspoon kosher saltFresh black pepper3/4 teaspoon dry mustard or dijon mustard10 ounces sharp cheddar, shredded
DirectionsIn a large pot of boiling, salted water cook the pasta to al dente and drain. Return to the pot and melt in the butter. Toss to coat.
Whisk together the eggs, milk, hot sauce, salt, pepper, and mustard. Stir into the pasta and add the cheese. Over low heat continue to stir for 3 minutes or until creamy.