08/12/2011 by Cynthia Wright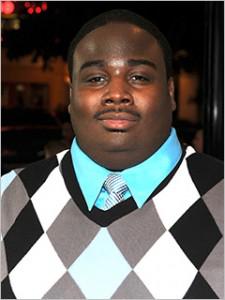 LaMarcus Tinker
It appears that Glee has another blossoming romance in the works for Mercedes (played by Amber Riley). Being that, it took them almost a full season to give her any sort of romantic interest in Chord Overstreet's Sam character (and even that didn't happen until towards the end of the season). Unfortunately, for Mercedes (and those that were secretly shippin' some Sam & Mercedes love) all was squashed when Ryan Murphy revealed that Overstreet would not be a full-time cast member for the upcoming season.
With the Sam character being designed as someone to occupy Quinn when she wasn't lusting after Finn; his story only became interesting when it was revealed that his family was in dire straits, the Mercedes development in the end became a welcome surprise.
Maybe  Murphy feels that having another heavyset character engaged in romantic entanglement with a 'hot' jock has already been taken up by Puck and his latest contest; so when it came to Mercedes and her love life  – there was someone better out there for her clearly.
Enter LaMarcus Tinker, playing the role of Marcus (such cleverness), who will begin wooing the soulful songstress during the show's third season. Tinker, who has been recently seen on Cougar Town is probably best known for playing Dallas on the critically acclaimed football drama, Friday Night Lights.
You know where we are going with this. Nothing against Tinker, his character was enjoyable on FNL but if Murphy wanted to "service more of the kids on the show" – why did he feel the need to shift Mercedes' storyline? Even if Overstreet was sold on not coming back to the show, Murphy didn't have an other viable options? It is Glee, after all – the main show to resurrect Fox's prime time television status.
Not only that, why did they have to insist on pairing her with another heavyset, black actor? With Mercedes already being used as comic fodder when it comes to dealing with the issue of weight – one would think that involving her with a character like Sam (or similar to him) would be a boost to her self-image, instead of relinquishing back to her usual slump. Not to mention, it was nice seeing the two interact with each other, since they appeared to have some real chemistry.
Maybe the romantic development will work but we would be lying, if we didn't say we were a little upset by this. If Rachel can get Finn and Kurt can land Blaine and at one point, Artie was dating Brittany – why can't Mercedes receive that same type of attention and be allowed to date someone not so stereotypical?
Not the most brilliant move, Mr. Murphy. Not at all.