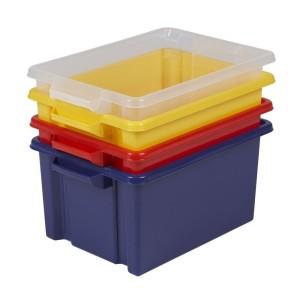 Oh my word just how quickly has the year passed? Have you heard that Santa Clause is coming soon? I know I am excited too but I am also left wondering where all these new toys are going to go.
Our house is already jam packed full of toys, with 6 children you can imagine how many sacks of new toys Santa brings with him.
We are lucky that we have 2 living rooms and were able to transform one of those into a toy room, but I know other friends are not as lucky.
The toy room is full of shelving units and toy boxes.
I have found the larger plastic storage boxes are ideal as toy boxes; they are larger and sturdier.
If you buy the ones with lids, you can also stack them, freeing up more space.
Storage boxes can be found everywhere in my house and I am already looking to buy new ones.
The girls have matching pink ones with lids which means they are stackable, everything is kept organised and neat and tidy in their bedroom.
The boys have matching blue ones and they are great for their cars and smaller toys that would normally go missing. At the end of the day it's so easy to scoop everything together and put them back into a box.
We also have under the bed storage boxes which make use of the extra space; the girls keep their shoes in theirs.
Toy storage boxes can be purchased from a wide variety of stores and I am currently looking at storage boxes from Plastic Box Shop as they have a huge range in different sizes and styles.
We have to make use of all available space here with so many of us and storage boxes are a must.
We have them in the hallway where we store our shoes, in the kitchen cupboards you will find smaller storage boxes filled with the cleaning equipment and we even have one full of medicines and plasters.
The husband has his own in the garden shed for his tools and gardening equipment.
The larger boxes are ideal to store away the Xmas decorations too, so it's easy to find them each year.
They have so many uses.
Other than toy boxes what do you use storage boxes for?

If you enjoyed this post, please consider leaving a comment or
subscribing to the RSS feed
to have future articles delivered to your feed reader.