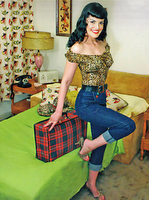 Denim Cherry Jeans
by Stop Staring
It only takes a minute to enter!  The Stop Staring $500 Online Gift Certificate Sweepstakes  -- begins at 10am Pacific Time on 06/01/2011 and ends 10am Pacific Time on 07/15/2011. To Enter: Go to
Stop Staring Clothing
and click on the "Enter for a chance to win a $500 Gift Certificate" link.  Fill in all necessary fields to complete the email sign-up form. Only entries submitted via this website are eligible. Limited to one entry per person and one entry per email address.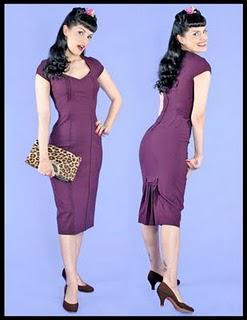 Hey Dress
http://www.getgoretro.com/
 In case you didn't know, Stop Staring! dresses are available up to size 18, and they have tons of styles to choose from so there is definitely something for everyone! The outfits are amazing retro pieces inspired by the glamour of the film noir and the sexy starlets of the 1940s and 1950s. Stop Staring's super popular dresses have also been worn by countless celebrities such as Paris Hilton, Kim Kardashian, Zooey Deschanel and Eva Mendes (and Ashley Greene of Twilight fame.)
At Get Go Retro we offer some of the Stop Staring line including the famous eggplant "Hey Dress," and the Denim Cherry jeans!  Both modeled by the wonderful Bernie Dexter
GoodLuck to you all,!!!!