In celebration of Earth Day, Fleetmatics Group PLC has created an infographic (see below) that shows how much "green" business owners can save by using a GPS fleet tracking solution to reduce vehicle idling. In fact, according to data we've compiled from tracking more than 331,000 subscriber vehicles that are implementing our GPS fleet management solutions, we've learned that business owners are reducing vehicle idle times by 25%1, on average.
When you consider that one hour of idling equals one gallon of gas used, it's easy to see how reduced idling leads to less fuel wasted. Many of you already know this and are reaping the fuel savings that GPS fleet tracking provides. But, did you know that only 17%2 of the 18.5 million3 local commercial vehicles in the U.S. currently use fleet tracking to manage vehicle idling? That leaves 15 million vehicles idling for an average of 96 minutes a day1, wasting millions of gallons of gas.
If GPS fleet tracking was in use by ALL of the nation's local commercial fleet vehicles, businesses owners could collectively save a whopping 7 million gallons of gas a day and $25 million in fuel costs daily4, while also eliminating 60,0005 metric tons of carbon emissions each day. That's something to make your wallet and the earth smile at the same time.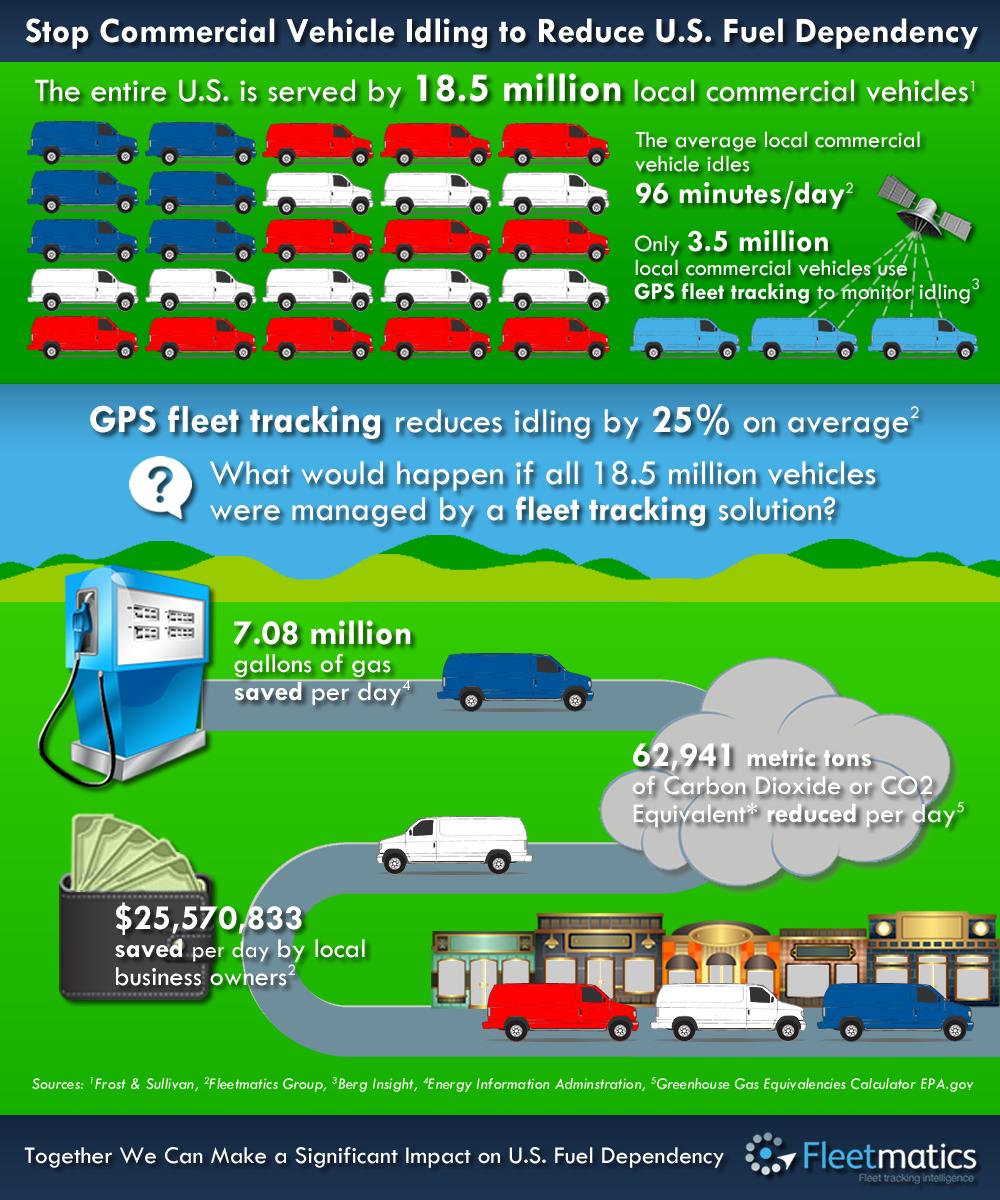 When translated annually these numbers could make an incredible impact on U.S. fuel dependency and carbon emissions including:
Reduction in annual gas consumption by 2,584,200,000 gallons3
Saving more than $17 trillion per year in fuel costs3
Decreasing carbon emissions by 22,406,996 metric tons per year4 
Fleetmatics Helps Customers See the 'Green' in Idle Reduction
After one week tracking idling, J. Carey Logging company owner, Ryan Carey discovered his fleet was idling 25 hours a day. "I could not believe it was that high. But I realized I was a contributor too. Five minutes here and ten minutes there really add up." Since he began tracking idling with the Fleetmatics solution, Carey estimates that he has saved $1,200 in fuel per month.
Midwest Underground Technology (MUTI) had been using another GPS tracking solution, but switched to Fleetmatics Group's SageQuest solution and immediately discovered a major idling problem that had gone undetected.
In only seven days, the company's trucks had idled more than 259 hours and 52 minutes, burning more than 180 gallons of fuel. If that had been allowed to continue, it would have cost MUTI nearly $40,000 in completely wasted fuel for the entire year – the average salary of a full time employee.
"We were absolutely shocked when we saw the numbers, and our company president promptly started enforcing new rules about idling when he saw how much money it was really costing the company," said Tyler Mott, Materials Manager, MUTI.
We're proud to be helping our small business customers improve profitability while contributing to a better environment. What is the biggest or best benefit you have seen with fleet management solutions? And how has GPS fleet tracking helped your business get green? Please share your thoughts in the comments below.
*All costs and savings are calculated based on data provided by the following sources:
1. Fleetmatics Group, 2012 Fleetmatics Group Study 2. Berg Insight, 2012 3. Frost & Sullivan, 2010 4. Energy Information Administration (calculations based on U.S. average $3.60 per gallon regular gas as of 4/8/13)  5. EPA.gov, Greenhouse Gas Equivalencies Calculator