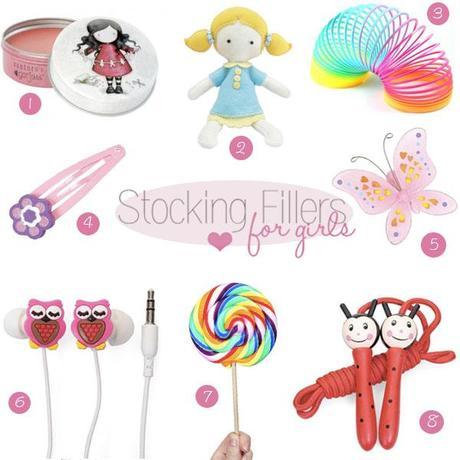 1 / 2 / 3 / 4 / 5 / 6 / 7 / 8
Christmas is coming up quickly, 47 days to be exact...no i'm not counting... :). Last year Abbie was only 12 weeks old so she had no idea what was happening, she was only interested in the flashing lights around the tree and sleeping...but this year is slightly different, she is still too young to know what is going on but she can get involved now with unwrapping the presents and playing with whats inside them! I look forward to when she's a bit older and we can start filling up a christmas stocking for her and put it at the end of her bed for first thing in the morning, watching her little face as she walks into our room holding her stocking awwww! :). I've come up with a few ideas for stocking fillers above, probably better for age 4+ but definitelty things I think Abbie would love when she's a bit older and number 7 might secretly be for me too.... :). Below is a list of other stocking filler ideas, 
1. Stationary
I used to love getting stationary in my stocking, gel pens in particular, especially the ones that smelt like strawberry or cola..the little things eh! It's also great timing for when they go back to school after the Christmas half term! What's great about stationary too is that it's rather inexpensive, so load up on everything, get her a new pencil case, some pretty notepads and sparkly glitter pens too!
2. Sweets
It's gotta be done, what kids don't like sweets? Whether it's sugar free and slightly healthy or full blown sugary treats, I always had a Terrys chocolate orange in my stocking, the yummiest chocolate there is! I used to love the whole hitting it against the floor to open it up, I'd sneakily eat it all for my breakfast too then have no room for my toast..oops :)
3. Games
Toys like tamagotchis, skipping ropes & slinkies are fun for all the family, take it in turns to see who can get the slinky furthest down the stairs, and who can jump the fastest with the skipping rope! Even things like packs of cards and handheld mazes, you know the ones with the little silver balls you had to guide into the little holes? Frustrating but so much fun!
Perfect for toddlers and young girls, cute flower hair clips and bow detailed headbands, bandanas and even hair glitter, I remember using those at school disco's when I was younger, it was a pain to wash out but I felt so cool with my sparkly hair! How about getting some clip in coloured hair pieces too, even let them do it themselves, 
5. Makeup!
Obviously they are more for the older girlies, just some play makeup, a few eyeshadows and simple lip balms such as Gorjuss 21, who actually do everything from iphone cases up to mirrors and purses too! Purchase some fun bright lipsticks & pretty blushers, no doubt she's watched you get ready for an evening out and you've found her digging into your makeup bag, ending up with mascara down her face and lipstick smeared across her cheeks...She'll feel so grown up with her own bits and it's a great way to re-connect with mommy or even older siblings, there's nothing I loved more than having makeovers with my friends!
x