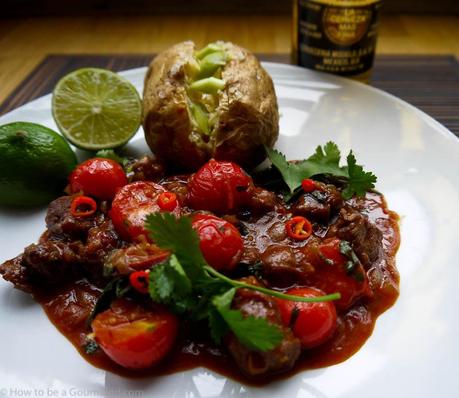 Sticky, Spicy and  and Smokey Chipotle Lamb Stew
Raw! Red raw! My body has been suffering of late from the cold. It's just the type of weather that will force you to hibernate for days. Things that require urgent attention, suddenly can wait another day as I find an excuse not to venture out into the blast chiller of the great outdoors. I had thought that the plummeting temperatures were coming to an end but it was very much short lived when we saw temperatures reach -2 degrees  °C. Brrr, someone pass me that extra blanket.
Alas! We have winter stews to provide that additional heat during the bitterly cold weather. As it's National Chilli Day on Thursday I thought I would make something with Chipotle; a smokey and dried chilli pepper used more commonly in Tex-Mex cuisine. Those of you familiar with my blog will appreciate my love (borderline obsession) with chilli.
What this dish lacks in finesse, it compensates in terms of flavour; we found ourselves licking our chops and appreciating the smokey hot notes long after we had wolfed down the dish. Those of you that have a hankering for BBQ flavours and using beer in cuisine will also not be disappointed.
The richness in the dish is derived from the smoked paprika, chorizo and chipotle and chilli paste . This is balanced by the sweet, plump vine cherry tomatoes, a sharp burst of squeezed lime and fresh herbs. Ideally, you should serve this with something starchy to stand up to the bold flavours. I served it with a baked potato sprinkled with tangy mature Cheddar and chopped spring onion.
We sat scoffing away at this dish during the RBS Six Nations Scotland vs Ireland match while sipping away at some Corona beer. A perfect way to spend Sunday afternoon while Baltic conditions continued outdoors.
Print Sticky, Spicy and Smokey Chipotle Lamb Stew
Prep Time: 15 minutes
Cook Time: 1 hour, 15 minutes
Total Time: 1 hour, 30 minutes
Serving Size: Serves 4 for Lunch or Dinner
This Tex-Mex inspired dish is a perfect antitode to the cold, harsh temperatures we have been suffering of late. An intensely flavoured stew, well matched with baked potatoes.
Ingredients
Lamb Stew
350g of lamb leg steaks, remove all fat, tenderise with a mallet and cut into 3cm cubes
1 red onion, finely chopped
2 tbsp olive oil
100g chorizo, roughly sliced
2 tbsp of chipotle and chilli paste
330ml bottle of Mexican beer
2 tbsp of Worcestershire sauce
100g of Piccolo cherry tomatoes on the vine, halved
A handful of fresh flat leaf parsley, roughly chopped (reserve some for garnish)
A handful of fresh coriander, roughly chopped (reserve some for garnish)
2 small red chillies, (deseeded if you prefer) finely sliced
Juice of 1 lime
1 tbsp plain flour
1 tsp smoked paprika
Salt and pepper to season
Accompaniment
4 fat floury potatoes (Maris Pipers are good), scrubbed, washed and pierced with a fork
2 tbsp of olive oil
1/2 teaspoon of sea salt
2 spring onions, topped and tailed and roughly chopped
40g of mature Cheddar, finely grated
4 knobs of butter
Instructions
If you are serving the lamb with baked potatoes, pre-heat the oven to 200 °C.
Prepare the potatoes by putting the olive oil in a dish and coating the potatoes.Sprinkle on some sea salt. Place the potatoes in the oven for approximately 1 1/4 hrs. The lamb stew can be prepared while the potatoes bake.
Lamb
Place the flour, paprika and salt and pepper in a bowl and stirring to ensure all are blended together.
Add the lamb and toss well to coat.
Heat the olive oil in a casserole dish and add the onion and garlic and soften over a gentle heat. Remove the onion and garlic to a bowl and then add the chorizo to the casserole dish.
Increase the heat and fry until just crisp, then remove and add to the bowl of onions.There should be residual chorizo oil in the casserole dish.
Add the seasoned lamb to the casserole dish and fry for about 5 minutes until browned all over.
Return the onion and chorizo to the casserole dish, stir in the chipotle and chilli paste to coat, and cook for 2 minutes.
Pour over the beer and add the Worcestershire sauce.
Allow the liquid to come to the boil.
Cover with a lid, turn the heat down and simmer for approximately 40 minutes until the lamb is tender and the sauce is thickened, sticky and spicy.
Add the fresh lime juice and check the seasoning.
Stir through the cherry tomatoes and chopped parsley and coriander.
Remove the baked potatoes from the oven and place them on a serving dish. Make an incision down the middle but be careful not to cut straight through.
Add a knob of butter and spread around the potato.
Sprinkle the grated cheese and place the chopped spring onion on top.
Serve the lamb stew on the plate and garnish with the remaining herbs and sliced chilli.
Notes
If you are keen to give your taste buds an awakening then this is the perfect dish for you. Enhance your experience by cracking open a Mexican beer, tuck in and enjoy!
Schema/Recipe SEO Data Markup by
ZipList Recipe Plugin
2.2http://howtobeagourmand.com/sticky-spicy-and-smokey-chipotle-lamb-stew/Unless otherwise stated, text and photographs © 2011 How to be Gourmand. All Rights Reserved. Kindly request permission from the author to copy or reproduce elements of this blog.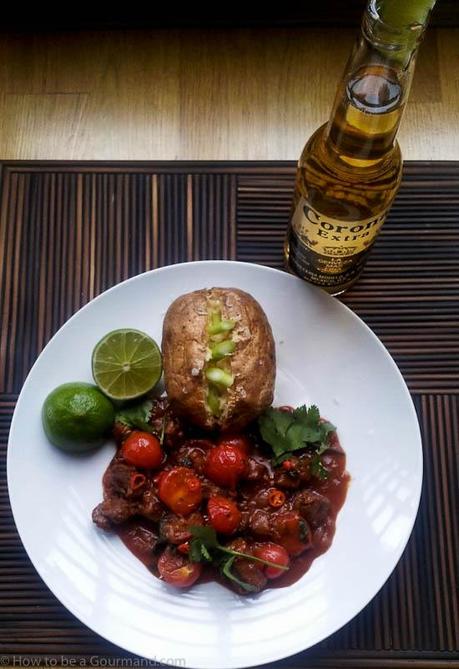 Sticky, Spicy and Smokey Lamb Stew washed down with Mexican Beer
Like How to be a Gourmand on Facebook
What is your favorite way of using chilli in a dish? I'd love to know in the comments below!