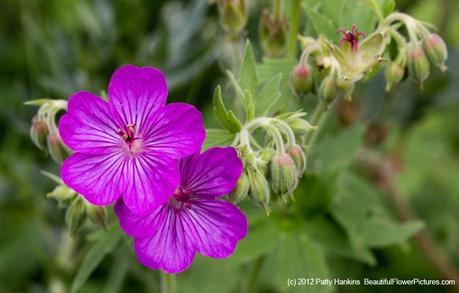 Sticky Geranium © 2012 Patty Hankins
Sticky Geranium – Geranium viscosissimum – is one of the wonderful wildflowers I discovered at Glacier National Park a few years ago. When I spotted it growing along the side of the road, I know it had to be a member of the geranium family since it looks so much like the wild geraniums I see in the Smoky Mountains in the spring.
Sticky Geranium is native to much of the Western United States and Canada. A summer blooming wildflower, sticky geranium can grow to 3 feet tall. The stalks of the plant have multiple pink to purple flowers blooming on them all summer long.
I loved seeing the sticky geranium in Glacier, Yellowstone and Grand Teton National Parks. The bright flowers were just wonderful to see as I drove along the roads and hiked the trails.
Sticky Geranium  is one of the wildflowers featured in my 2015 Wildflower Calendar. You can order your copy from my website.