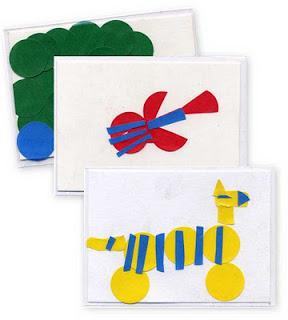 Sometimes kid's creativity just blows me away. I brought round colored stickers to my Art Trading Card class today, thinking that everyone could make art with just circles. Then one very clever boy started cutting up the stickers to make these amazing cards, including this tiger and electric guitar.


1. I passed out 2.5" x 3.5" white cards, sheets of .75" colored stickers, and thin markers to each student. They were to use their imagination to see how many different things they could make with circles, i.e. flowers, balloons, vehicles, etc.
2. When complete, each card got a plastic trading card sleeve, which cost about a penny each.


Thanks to Luc, a talented 1st grader, for letting me share his trading card art.