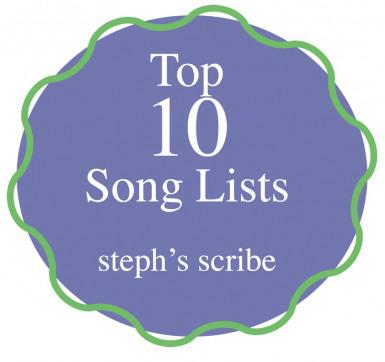 As American Idol begins to wind down, I thought it would be fun to take a little breather from book promotion to think about favorite songs. What's so much fun about Idol is that we, the American public, love to be opinionated about each contestant's songs and song choices. We think, "Ooohh…she shouldn't have chosen that song," or "That song didn't get to me at all."
So, this week, I'm going to post some of Steph's Scribe's Top 10 Song Lists. I'm going to categorize the songs, and list my top favorites. And, I'll include Reader's Favorites toward the end of the week. That means, if you want to jump in on the action and get one of your songs in the mix, you must participate by commenting. Most likely, the reasons we all choose songs are because they are sentimental of course. We like songs because they remind us of a time and place or a person—or all three.
That said, here are the first two of my Top Ten Lists.
PART ONE
Steph's Scribe's Top 10 Songs That Will Make Me Dance By Myself When No One is Watching
10.    I Feel For You, Chaka Khan
9.   Rumor Has It, Adele
8.    Vogue, Madonna
7.    Let's Groove, Earth Wind & Fire
6.    Mr. Brightside, The Killers
5.   Wild Ones, Flo Rida
4.    We Found Love, Rihanna
3.   Moves Like Jagger, Maroon 5
2.   I Wanna Be Your Lover, Prince
1.   Wanna Be Startin' Something, Michael Jackson
Steph's Scribe's Top 10 Songs that Transport Me To A Time & Place (And maybe to a moment in time with a person or people)…
 10.    Easy Lover, Philip Bailey/Phil Collins
9.    Whole Lotta Love, Led Zepplin
8.    Miss You, Rolling Stones
7.    Every Breath You Take, The Police
6.    I Get Knocked Down, Chumbawamba
5.    Wouldn't It Be Nice, The Beach Boys
4.    Everything, Michael Buble
3.    Into the Groove, Madonna
2.    Gettin' Jiggy With It, Will Smith
1.    My One and Only Love, Sting
Coming up…
ON TUESDAY:
Heartbreak (I wanna cry my eyes out) Songs
Sexy Songs
ON WEDNESDAY:
Rock Songs
Song Book Classics
ON THURSDAY:
Hopeless Romantic Love Songs
Reader's Choice Songs