Su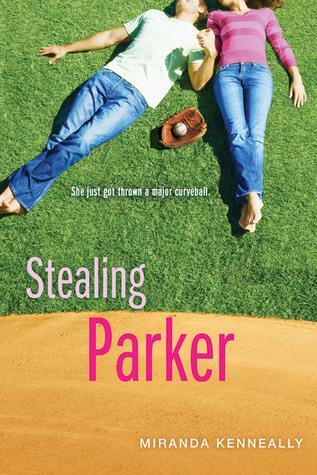 mmary via Goodreads: Red-hot author Miranda Kenneally hits one out of the park in this return to Catching Jordan's Hundred Oaks High.
Parker Shelton pretty much has the perfect life. She's on her way to becoming valedictorian at Hundred Oaks High, she's made the all-star softball team, and she has plenty of friends. Then her mother's scandal rocks their small town and suddenly no one will talk to her.
Now Parker wants a new life.
So she quits softball. Drops twenty pounds. And she figures why kiss one guy when she can kiss three? Or four. Why limit herself to high school boys when the majorly cute new baseball coach seems especially flirty?
But how far is too far before she loses herself completely?.
Stealing Parker will forever be an all time favorite.
It is one of those books that you cannot put down and you love it and you love that you love it but really don't know how to explain why to anyone else. Well, I'll try.
Parker shows us the ugly side of high school. While at first she is living the life as Miss Popular, her life is on a sudden downward spiral. She is shunned by her friends and her church all the while her family is falling apart. She starts to lose herself and is having a hard time finding her way back. Besides her best friend, Drew, and an ever-present 'friend' that keeps popping up, Parker is putting her life back together all on her own.
When Parker meets Brian it is inevitable that he falls for him. He is older, good-looking, and plays baseball. Oh, and he's the baseball coach. It's kind of a sick twist on forbidden love. Brian starts out sweet but becomes a little bit creepy. He is so protective over Parker (which is a super annoying trait) and they aren't even in an established relationship! Age difference isn't always that big of a deal but because of him working for the school, I think that they take it too far. I realize that Parker is drawn to this older man but sometimes she doesn't use her brain while in public…
It is Parker's other love interest that makes things good. is kind of expected in an unexpected way if I can say that. Like of course she would fall for him. But wow, really, she fell for him? Read it to find out what I mean

Parker is a really strong character. She takes care of her dad, brother, and herself. Even though she allows herself to break down when she is alone, she puts up a tough front for her family. She is also extremely competitive and smart. She's athletic and pretty. She's stylish and kind. Do you get it yet? She's perfect. But she isn't treated like she is and she doesn't feel like she is. Though she will act differently for those around her, Parker is very honest with the reader. She is down-to-earth and as cheesy as this sounds, she's real. She can't help but be herself.
In Stealing Parker we get an inside look on what it is like to be judged. Parker is a sweet and funny relatable girl who I can't help but love while her classmates can't help but hate. You will enjoy watch Parker grow up from her break downs and attempt to put the true Parker Shelton back together.
Catching Jordan was my first Miranda Kenneally experience, and Stealing Parker will not be my last!