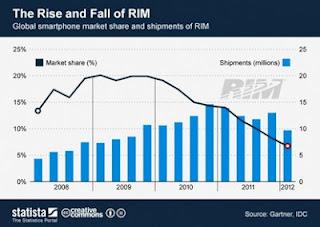 The ups and downs'''' may be the right word to describe the current condition of the BlackBerry. A Statistic published by Gartner shows that since 2007 finally global BlackBerry market share fell to its lowest point is about 7-8% only. Lack of new innovations at the BlackBerry device to be one cause of loss of market share BlackBerry in great numbers.
But this does not mean that they are already finished. From the data we see above, looks total shipments in Q1 BlackBerry smartphone to the world is still quite stable despite the decline compared to previous years. This chart is believed by observers to be rising after  BlackBerry 10 
smartphone
 was released later, the RIM also expressed optimism that things will begin to improve for them along with the presence of the BlackBerry 10
which will be a mainstay of the Canadian company.
source