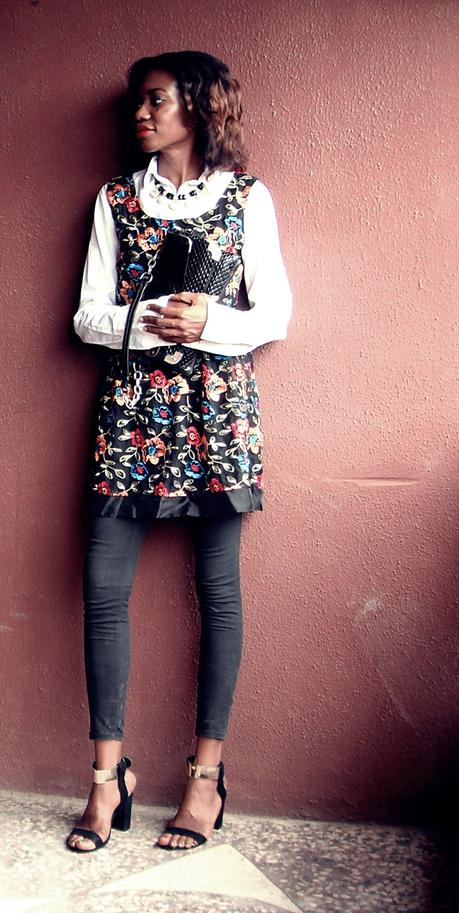 More is more is more with my outfit today. I went extra-long with my sleeves in this look of white shirt layered underneath this relatively fool proof floralembroidered mini dress that I'd previously worn as is here. You know how it is said that bad company corrupts good manners. Yes, sometimes the reason you hurt might be because your value system does not align with the value system of the one(s) you are with. Your values could be how you spend money, hygiene, mental perspective, spiritual inclination, sexuality beliefs e.t.c
Say, for instance, you value a neat and organised surrounding and someone else does not. You'll find you have options such as:
(a)
To nag and complain or employ varied strategies to get them to tidy
(b)
To make the sacrifice and compromise and be the 'maid'
(c)

  
To change your value system and no longer prioritize neatness so you both wallow in untidiness
(d)
Leave and find someone who shares the same value system as you do
The plain white of this shirt provides a cool laid-back vibe to the colourful embroidery stitches on the dress and the gold on the black chunky block heeled sandals accentuates the gold threads on the dress's design. I added the statement custom necklace around the shirt collar as an elevating finishing touch. This look is totally incorruptible. I absolutely love that each item in this outfit shares the core values of my wardrobe; which are:
(a)
Versatility
(b)
Practicality
(c)

  
Quality
Let's talk more on each of these wardrobe values in another post shall we? I leave you with  embroidered dresses that cover these three wardrobe core values.