According to UBC Day 30, it is Mischief Night in the US on the 30th of October. 
From the UBC email I learned that "Mischief Night is an informal holiday on which children and teens engage in pranks and minor vandalism. It is most commonly held the night before Halloween."----Wikipedia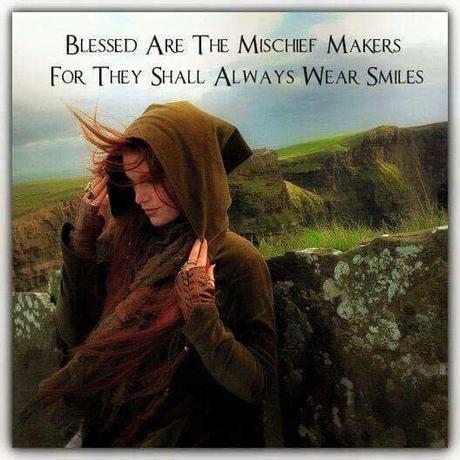 Source: Pinterest
Did you know that Halloween is the evening before the Christianholy days of All Hallows' Day (also known as All Saints' or Hallowmas) on 1 November and All Souls' Day on 2 November, thus giving the holiday on 31 October the full name of All Hallows' Eve (meaning the evening before All Hallows' Day).
Day 30's challenge is to share on a mischief that we've ever gotten into.
I've done a few mischievous things here and there, from writing love letters to fictional male characters and stamping a controversial magazine cut-out on my Human Geography textbook way back in the 'piously prudish' secondary school I attended. Calling the school piously prudish is in itself being mischievous. What childhood pranks did you play?