A condo summit seminar I attended this week echoed the feeling I have had that the condo market is improving. As you can see from the chart below of the 13-county Minneapolis-St. Paul metro area, the months supply of inventory of condos has always hovered above that for houses and townhouses but soared above the other types in 2009-2010-2011. The gap is starting to tighten again.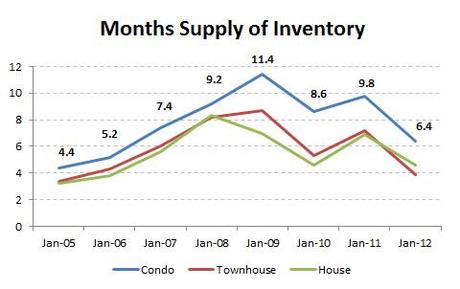 This January the months supply for condos came down to 6.4 months, the lowest level at this time of year since 2006. The supply of houses at 4.6 months and townhouses at 3.9 months officially puts them in a seller's market category.
The condo summit featured panels of professionals involved in market research, developers, Realtors specializing in downtown condo sales and condo home owner associations. Here are some tidbits I took away from the morning...
The downtown Minneapolis condo market is fairly strong, but the condo market is still weak as you move away from the core city
The downtown Minneapolis condo market is changing... it is no longer a curiosity, it has come into its own as a viable place to live
Listings are down, values are still fluctuating
Market is good on the low end... harder in the $400k-$700k range... then good again above $800k
Luxury condo market is encouraging... downtown units are selling in multiple offers... 2010 had 9 sales over $1M, 2011 almost double at 17
New construction can't get price down to $250k units in downtown because of land and building costs
More people are wanting to move in from the suburbs, but they are having trouble getting their homes sold
Buyers are feeling more confident we are at the bottom of the market
About 20% of downtown condos are currently rented, many 'accidental landlords' because of the market downturn
Apartment projects are going up, but not condos... apartment projects have an eye on converting to condos as the market turns in that direction again
Condo financing is getting easier, but there are lots of cash sales
Closings are fairly quick, average 30 days from purchase agreement to closing
Offers aren't as low as they used to be... lowball offers are mostly gone
Sign of exploring the idea of a senior community in downtown Minneapolis
Predict in five years the condo market will be up in Minneapolis, flat out of the city
Sharlene Hensrud, RE/MAX Results - Email- Minneapolis Condo Realtor