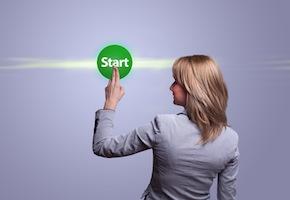 When you are excited about your new product or service you may want to just jump right in and get going as fast as you can.  After all, it is a great idea and there are a million customers out there waiting for you to announce it.  Right?
Possibly, but there are really two things at play here:
1. Creating and presenting your amazing offer
2. Building a successful business around it
Business building will happen more gracefully and successfully when you have a solid foundation.  When my clients want to skip this step, I remind them that the clarity and systems that take care of the basics will give them more freedom and time to do the fun stuff.  Without that foundation, they may end up spending much of their precious time in chaos and details and then wonder why it is so hard.
The steps in this foundational process include:
1. The Heart of Your Business: This is where you become very clear about the intention and vision behind your business, including who you want to serve, why, and what you want to create.
2. Framework: Not quite as sexy, but just as important are setting up your logistics, environments, and systems in a way that will work smoothly and support your success.
3. Strategic Plan: Get really clear about how you are going to move forward. This is where you get to create project lists, set goals, and then specific action steps that will move you forward.
4. Products and Services: Tap into the passion behind your business idea and bring your products, packages, and services to life.  Get them ready to share with the world.
5. Client Attraction System: How will you market your business and let people know that you have the answers they are looking for?  Planning a cohesive message, branding, and marketing strategies will help you find clients easily, serve more people, and bring in more money.
6. Sales Process: Once you attract clients you need to know what to do with them.  Map out a process for connecting and enrolling people as well as how you will follow up with those in your sales funnel who have expressed interest, but not committed yet.
7. Nuturing Connections: People who have experienced your service are an excellent resource for referrals and buying new products you offer.  It is also important to stay connected with other business leaders who can become powerful partners, referrers. or fans.  Whether you choose social media, blogging, or email newsletters, keeping these connections alive will be critical for your future success.
If you would like personal coaching support with your start up:  CLICK HERE