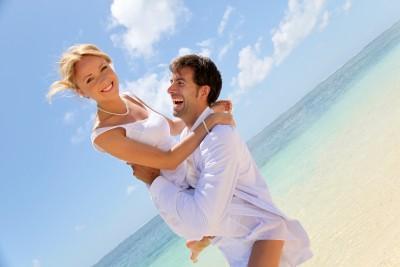 Not looking forward to a traditional wedding? They're not for everyone. For a wedding experience that will brighten your guests' lives as well as get you smashing wedding photos, consider a destination wedding. If you're concerned about the cost, you'll be interested to know tying the knot in an exotic location is not always as expensive as it sounds. Combining fun and romance, destination weddings are the perfect way to start married life for couples seeking a small, meaningful ceremony to profess their vows. Read on for six great locations to hold your nuptials that will have your friends fighting for invites.
Mexico
The beach resorts of Mexico are a popular destination wedding location for couples from all over the world. The country's laidback vibe, bright colours and sunny weather make Mexico a compelling choice for your big day. Acapulco, Puerta Vallarta and Cabo San Lucas are popular choices for destination wedding planners because of the wide range of resorts and entertainment options available. Arranging your wedding at a resort is easy; many resorts have on-site planners available to assist you in making the decisions about decorations and libations. British nationals marrying in Mexico or any of the countries on this list should consult with the UK's embassy about the paperwork for registering their union.
The Maldives
Imagine saying your vows on a white sand beach in front of the clear, calm blue of the sea. Palm trees rustle overhead and your best mates can't wait for the seafood buffet at your reception. Planning a destination wedding in the Maldives is simple. Most people think of the Maldives as being too far away or too expensive to consider. They're actually wrong. Engaged couples planning on flying to the Maldives for their wedding should remember a wedding in that country won't have legal significance back in Britain. Some paperwork at home to give the government notice beforehand will be necessary.
Las Vegas
Las Vegas is a great place to get married if you're looking for a themed wedding or aiming for some over-the-top entertainment. Adult guests will have plenty to do to entertain themselves, and Las Vegas has many child-friendly activities as well. Hotels and meals in Las Vegas are affordable, and there are so many accommodation options available you won't need to stress about finding room for last-minute guests. Just because your marriage happened in Vegas, it doesn't have to stay in Vegas — check with the UK embassy in the United States about the paperwork to file if you get married there.
Spain
If you have a large family who'd like to attend your wedding but will balk at the price of flying far overseas, Spain is a natural intersection between affordability and romance. Southern Spain's coastline is definitely a good idea, especially if you go during in off-peak season.
Bali
Travellers to Bali remember forever the Balinese people's smiles and hospitality — what a great memory to associate with your wedding, don't you think? Bali, like Mexico, has many resorts where the staff is well-versed in orchestrating a hassle-free wedding day. Imagine saying your vows by a hibiscus bush and then taking your wedding photos on the beach at sunset while your friends sip cocktails and toast to your happiness.
Thailand
Thai delights extend beyond the backpacker circuit. Planning a destination wedding, at a beach resort or a jungle hideaway in Thailand is an affordable and exotic choice. Whether you ride elephants with the wedding party, get your wedding photos done while dressed in traditional Thai clothing or sit on the beach with everyone and relax, Thailand has numerous options for couples to choose from.
About the Author: Josephine Eggles worked as a wedding planner for years before retiring to her native Manchester. Her choice for a destination wedding is the Maldives and she suggests soon-to-be-married couples research Maldives holidays on Expedia.