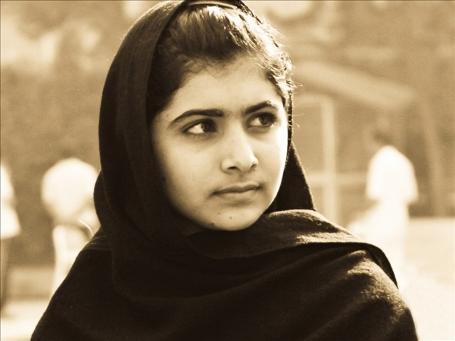 Malala Yousafzai
Malala Yousafzai has spent the last 3 years of her life in the pursuit of education and equality. As a result, she has spent the last 13 days in a hospital bed in Birmingham, England.
At 11 years old, Malala began blogging for the BBC. She ran an anonymous daily journal chronicling her struggles to get the education she deserved as a young Pakistani girl. When Malala's blog became popular worldwide, her name was added to the byline. In 2011, Malala won both the International Peace Prize and the Pakistani Peace Prize. Malala's maturity and wisdom served her well as she argued eloquently and passionately for girls' educational rights in the Middle East and worldwide.
However, Malala's open activism also made her a target. On October 9, a Taliban gunman walked onto her school bus and shot her twice (in the head and neck) on her way home. After the attack, Malala spent many days recuperating from several surgeries before she was weaned off of some medications and taken out of her coma. Now, Malala is writing and beginning to walk again. Malala may be out of harms way for the time being, but the lessons her shooting serve to teach us are still as powerful as ever.
Christen Brandt, Director of International Operations at She's The First, a non-profit organization that "sponsors girls' education in the developing world," sees an important illustration of the power of girls' education in Malala's attack. "The big take away here," Brandt says, "is that what the Taliban was most scared of was represented by this 14 year old girl with a book and a voice."
In her activism, Brandt says Malala, who "when most of us were still on the playground, was advocating for girls' education around the world," serves as a reminder of why She's The First works for girls' education worldwide–to provide education as a "way out" of the cycle of poverty, as a means of fending off child-marriage, and as a source of options and opportunities.
How, though, can we encourage young girls to stand up and speak out when doing so can carry life-threatening consequences? According to Dory Gannes, a Senior Campaign Associate at Girl Up, a United Nations Foundation, believes that a key component of tackling this issue goes "beyond investing in girls," and means "working with those who hold power in communities: village chiefs, parents, and religious leaders." While Malala's situation is "still an indicator that it's a dangerous place for girls in the world," we have made global strides towards a more peaceful and safer world for girls. Brandt says She's The First will continue to fight for girls' education, which they "know really is the answer to lessening this danger tenfold." As much as their work is about girls, Brandt adds, "this is also about educating boys that women are to be respected members of society."
Coincidentally, Malala was shot two days before the International Day of the Girl, a global event declared by the UN "to speak out against gender bias and advocate for girls' rights everywhere." On October 11, Girl Up ambassadors spread awareness in pep rallies and information sessions at their high schools, and She's The First campus leaders met in New York for leadership workshops where they brainstormed solutions to challenges facing girls across the globe. "The most successful Day of the Girl events were the ones that will make every day Day of the Girl for those who came into contact with it," Brandt noted.
Sitting in my dorm room reading the BBC's coverage of Malala's shootings, I have never felt smaller. And yet, sitting in that same room while speaking with Brandt and Gannes, I have never felt more capable of change and of making an impact. These women, both at the forefront of global movements for girls, highlight ways to combat the overwhelming nature of issues as vast and enormous as girls' rights internationally. "[Malala's story] is a great way to get the conversation started. Keep the story going. This is an issue that affects everyone, everywhere," reminds Gannes, who also advises that we "must find the success stories of everyday women and girls who are making a difference." Brandt encourages college students, for whom it is easy to feel isolated and distant from issues facing the global population, to find a way into these intimidating global problems. Rather than feeling inadequate in comparison to such large-scale international issues, we should use our own skill-sets and passions to take a narrower focus. Find a piece that you feel passionate about, and tackle the larger problems through that lens. Though girls' education is what inspired both Brandt and Gannes, what makes you passionate could be anything from public health to arts education.
So, where do we go from here? As smart, enthusiastic, capable young women, we have a few important choices to make. It is absolutely imperative that we consider women's issues as we exercise our right to vote. Though it can be hard to find kernels of valuable information in ads and debates, Brandt suggests focusing on a candidate's policies regarding contraception, reproductive health, and workplace equality on a domestic level. These stances, she argues, are indicative of how a candidate will work (or not work) to promote girls' and women's rights on a global scale. Next, we must find ways to get involved. Find an "organization that does great girl work" says Gannes. Search for a mission statement that ignites a spark for you. Get inspired and commit yourself to promoting work that matters. Engage in conversations and debates about topics of significance.
Don't stop thinking about Malala. Malala is not just a "girl with a book and a voice," but a beacon of hope and inspiration for millions of girls around the world and a reminder of the strength of just one girl and her voice. Malala fearlessly spoke out and stood up. Don't let her stand alone.
For more information and to get involved visit: Girl Up and She's The First!
Originally posted on Her Campus