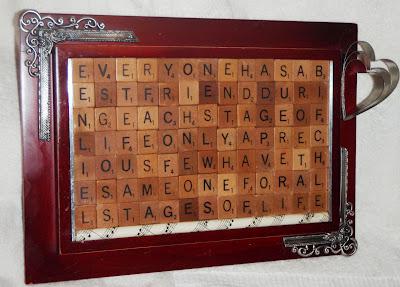 "Stages"
This piece was commissioned by Kim who saw my work on this blog and wanted to surprise her best friend with piece of scrabble art for her birthday. Kim told me that she and Paula had been friends since they were little girls. She wanted me to create a scrabble art piece with a sentiment that expressed her appreciation for her life-long friendship with Paula. Kim provided the quote, which is attributed to Jane Coltrane by some sources and to Anonymous by others. "Everyone has a best friend during each stage of life.  Only a precious few have the same one for all stages of life." She left the rest up to me. This is what I came up with. I shipped off the finished piece to Paula last week, she should have received it today. . . . I do hope she loves it.
Wooden tray holds scrabble tiles spelling out the quote. A metal picture frame was cut to make the corner embellishments and 3 heart cookie cutters finish the piece. The back is collaged with a vintage map of Australia

(just because it looked good)

and overlaid with McCall's pattern tissue.  Ready to hang.