The square halo engagement ring has taken the bridal world (and Pinterest) by storm. It's one of the most popular styles at Raymond Lee, and I never tire of helping brides-to-be-to-be play dress up with them. I've even been known to swap my own bridal set out to snap quick pictures of this lovely style!
What makes it so great? A few things:
Style: The halo trend is going nowhere in the bridal world. It continues to dazzle brides who love the extra dose of bling, the boost it gives their center stone's face-up appearance, and how BIG it makes your ring look on your hand.
Uniqueness: The halo engagement ring is also the hottest thing in bridal right now – everyone who's anyone has them. The square halo though is a little more unique. It's fitting that a bunch of the rings I've selected to show off today are by our designer Uneek Fine Jewelry! The square halo, whether it's around a princess cut diamond, emerald cut, or a lovely soft square around a round or cushion, stands out in a sea of round brilliant halos.
Versatility: Those different diamond shapes I mentioned above? They lend a completely different feel to their respective rings. An emerald cut halo is refined, contemporary. A cushion cut halo is soft, and feminine. The round brilliant with a square halo tends to skew vintage-inspired. But then again, the right mounting can completely transform the diamond.
Customization: You'll also spot a few extra flashes of color in these rings. Rose gold is another gorgeous bridal trend I can't get enough of, and I especially love it when it's tucked into unexpected details in surprising places.
Budget: Again, the halo's biggest plus is its size-enhancing magic. It can make any center diamond look up to an entire carat larger than it really is – for a fraction of the cost. Because halo settings use pavé diamonds – small round brilliants "paved" into the gold or platinum – they really stretch the budget while adding carat weight. A ton of tiny diamonds (that sparkle like glitter) cost significantly less than one or two stones weighing the same. This is because diamond prices increase exponentially with their size.
So, it's no surprise that square halo engagement rings are all the rage. But enough chit chat, let me show you why you'll go crazy for this style.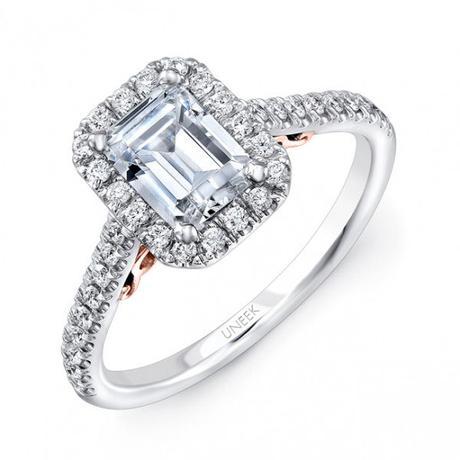 Uneek 14k White & Rose Gold .45ctw Emerald Halo Ring
First up, this gorgeous two tone emerald cut setting by Uneek. The crisp cut corners on the halo would work equally well with a  radiant cut center stone. The most beautiful part of this ring is the hidden touch of rose gold on the gallery. A gorgeous floral, lotus-like pattern with filigree shines in 14 karat rose gold.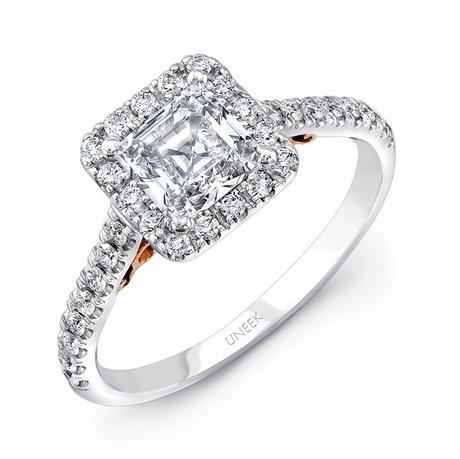 Uneek 14k White & Rose Gold .40ctw Princess Halo Ring
This setting is nearly identical to the one above it, but is perfectly proportioned for a princess cut diamond. Though if I'm being honest, I love the always unexpected use of a square Asscher cut diamond!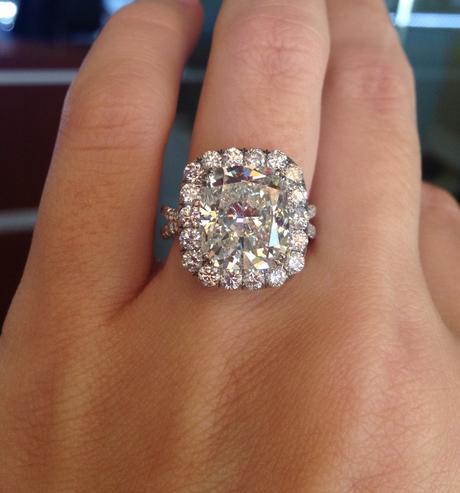 6.01 Carat Cushion Cut Engagement Ring
Another Uneek beauty, but one that we just had to set with one of our own diamonds! We did this same design in fancy yellow, too. Just in case you drool over canary diamonds like I do. The center stone is a heyoooge 6.01 carat, J color, VS1 in clarity cushion cut diamond. The platinum mounting boasts another 1.63ctw of Round Brilliant Diamonds, G in color and VS in clarity.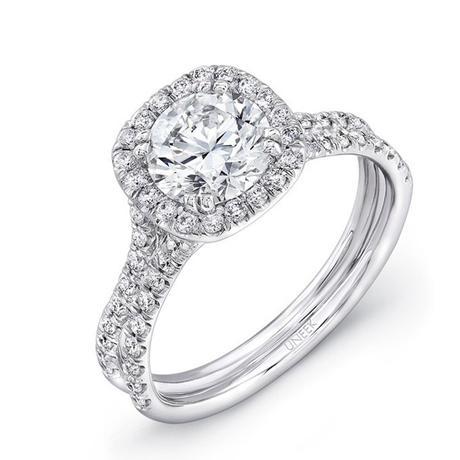 Uneek LVS898 0.58ctw Diamond Cushion Halo Engagement Ring Semi Mount
For something a little different, this Uneek cushion shaped halo (for a round brilliant diamond) shows off Uneek's signature curved split shank. And, you know, .58ctw of beautiful round brilliant accent diamonds.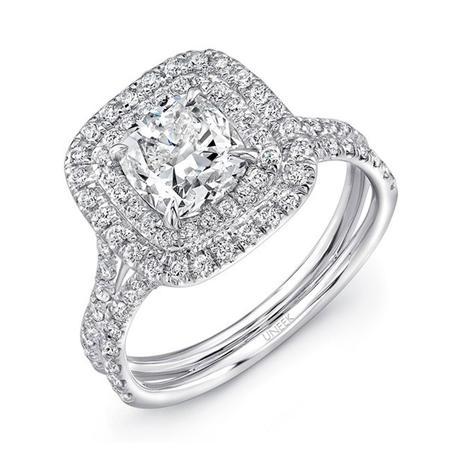 Uneek LVS914 0.65ctw Double Cushion Halo Engagement Ring Semi Mounting
Take the ring above, and add another halo and you get this stunner. While this ring only features an added .07 carats, it uses them wisely. This ring has major bling power on the hand. That extra dose of diamonds is just the thing to make even a .50 carat center diamond SHINE.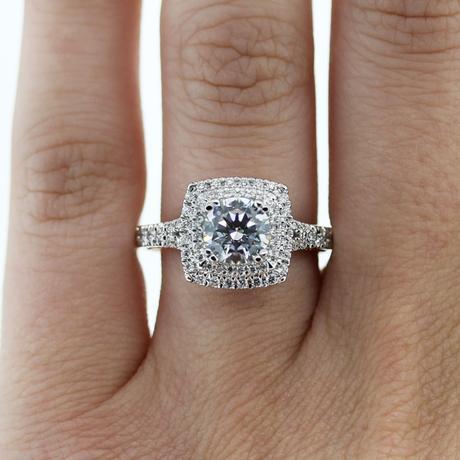 Verragio ENG-0425CU 0.45CTW Couture Diamond Engagement Ring Mounting
And, to round things out (or, uh, square things off) I have to show you this fabulous Verragio engagement ring. It also shows off the double halo design, but in a different style. The sharp, pronounced corners are softened by the billowing sides that still give it a cushion shape. And the stacked halo creates depth in the design. It's one of my favorite Verragio styles!
Which of these would you wear?