I adore buying Sienna clothes and putting together her little outfits and I can't wait until we have 2 children to dress. I don't know about you, but I love to put together wish lists; I am always on some kind of website, filling my basket to the brim of things I would get if I was a millionaire. 
This week, it just so happens to be the Armani Junior range at Harrods so I thought I'd share a few of my top picks for Spring/Summer. I mean one of you out there might be see something you like and treat your little one!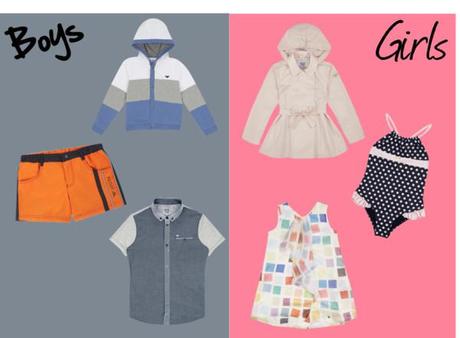 Of course, in England you can never guarantee the weather even in Summer so jackets are essential. The tricolour hoody is lovely, I love the colours it reminds me of the whole beachy theme and with the hood will add warmth on the cooler days but is still spring colours. For girls, I picked this little Trench coat out, it's so cute! Again it adds extra warmth but being in the beige colour, it still looks fresh and spring like as opposed to a black jacket.
Swimwear is hopefully needed at least one during the Summer and these gray and orange swim shorts for boys just scream Summer time. I love the contrast of the colours and how they make a nice change from blue. I have an obsession with polka dots at the moment so I had to pick this costume for girls. Polka dot, baby pink and frills? Sold.
I love these kind of t-shirts that have the collar, they are smart enough for boys to wear in evenings but not too dressy or uncomfortable for boys that are full of energy and never stop moving. I love the colours together again and the denim effect. For evening time for girls, I just love dresses with tights and how lovely is this dress above?! Perfect colours for Spring/Summer and such an unusual pattern, I can imagine Sienna in this looking super cute!
What would you pick?