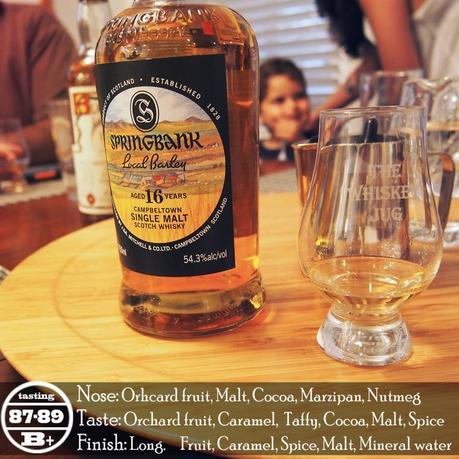 Springbank Local Barley 16 Years gets it same from how it was made. This whisky was made from barley grown at Low Machrimore Farm which is just a few miles away from the Springbank distillery in Campbeltown making it a hyper local product. In addition to the barley coming from a local farm it was 100% floor malted at Springbank distilled all in a single run.
After distilling all of the locally sourced barley they put the new-make into some ex-bourbon barrels and set them aside to age for 16 years which on a conceptual level fascinates me to no end. The whisky world looked vastly different then than it does today so when they laid it down they probably didn't think they could release it at $180 and sell out. The future they had in mind for the Springbank Local Barley 16 Years was likely different than the reality we're faced with today. An interesting thing concept to wonder for sure.
Springbank Local Barley 16 Years Info
Region: Campbelltown, Scotland
Distiller: Springbank
Mashbill: 100% Malted Barley
Cask: ex-Bourbon
Age: 16 Years
ABV: 54.3%
Cask Strength | Non-Chill Filtered | Natural Color
Price: $180
Springbank Local Barley 16 Years Review
EYE
Honey
NOSE
Orchard fruit, malt, cocoa, marzipan, nutmeg-heavy spice, vanilla, apricot and a touch of oak and earth. It's not super dynamic, but it is full and pleasant. Nothing to complain about here.
PALATE
Orchard fruit, caramel, taffy, cocoa, malt, spice, earthy, mineral water and a touch of smoke. Like the nose, there's nothing to complain about here either. Full and pleasant fits the bill again.
FINISH
Long and fruity with notes of caramel, spice, malt, mineral water, apricot and oak.
BALANCE, BODY & FEEL
Well balanced, medium body and a warm silken feel.
OVERALL
Springbank Local Barley 16 Years is a good clean execution of a whisky; a slow burn of sweet fruity and lightly spiced aromas and flavors. It has a decent complexity and a robust character that carries through from the aroma to the palate and the finish. When I tasted it at a friend's house I scored it a low A-. When tasting it blind with the Malt Nuts I gave it a high B+. So I went with that one since I feel like blind tasting gives the cleanest read.
The price is a bit off putting, but at least it's a truly limited release and not something that they have 50K bottles of laying around or is part of their new core lineup. Anyways, it's a decent whisky and if it's within your price range to try the Springbank Local Barley 16 Years I recommend you do.
SCORE: 87-89/100 (B+, not consumed at home)