I know that it's still just the middle of winter, but I am already thinking about spring.  I can't wait to change my puffy coat for a nice cardigan or a jacket, and my boots for flats and high heels.
Anyway, I decided to create my wish list for spring, because it will be here before you know it.
Here are the items that I like and currently want.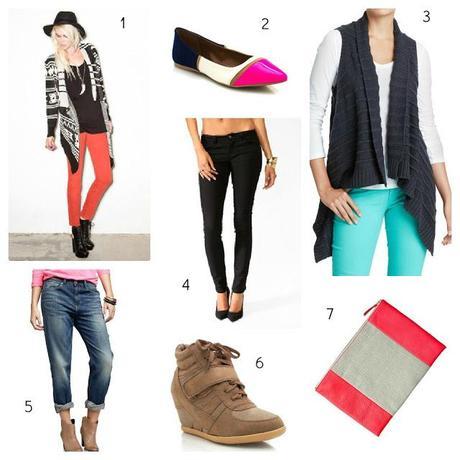 1.  
Open-Front Southwestern Cardigan - I just love anything with pattern like this.  I've been dreaming about it since they became popular.  Maybe it's time to buy it?
2.  Pointy Toe Flats - Love, love, love the color combination on these flats.  They look really glamorous and trendy.  They have two other color combos, but I like these best.
3.  Assymentrical-Front Sweater Vest - Wouldn't it be perfect to wear it with a few layers?  It's light enough to wear in the spring, and it can still keep you warm on those windy spring nights.  I'm already imagining my outfit... :)
4.  Fitted Skinny Black Jeans - Ok, black jeans is a must in every girl's closet.
5.  1969 Boyfriend Jeans - Sooo trendy right now.  I love them because you can wear them with heels, yet still have a relaxed look.
6.  Suede Canvas Wedge Sneakers - This is probably my most exciting item in the list!  I want them so bad, I keep looking at them over and over again.  I can't decide on the color though.
7.  Two-Tone Canvas Clutch - Isn't it perfect?  Canvas makes it look really summery, and the leather trim gives it such "evening" look.  Would be great on a date or girl's night out.
Which is your favorite item?  Feel free to share your wish lists with me. :)
Thanks for reading!
K.H.